COVID-19 Facts and Resources
What to do if you are sick with COVID-19
---
Vaccine Locator
For questions about COVID-19 vaccines, click here.
For the DHEC Vaccine Location, click here.
The vaccine locator will have two options. Once you put in your zip code, you are given all possible options for providers in the zip code.
If the employee clicks on a

DHEC provider

, they will be taken through the process of scheduling an appt. Once the employee answers the question, they are offered locations for DHEC providers. This is a limited amount of providers and locations. [I went through the process and there were none in my zip code at this time – but I could go to other counties.]
If you choose any other provider such as Walmart, Walgreens – MUSC (while listed is not taking appts at this time) - Roper Hospital was not listed. The employee clicks on a link to go to the providers website to schedule their appointment.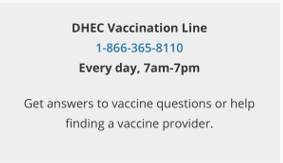 Situation Updates
Travel Advisory Info
---
COVID-19 Vaccine Resources
---
Other Corporate Documents