Santee Cooper Lakes
As stewards of the Santee Cooper Lakes, we are responsible for maintaining South Carolina's largest and one of its most beloved freshwater resources. The Santee Cooper Hydroelectric and Navigation Project was created to impound the Santee River, transform its power into electricity, and spark prosperity in Depression-ravaged rural South Carolina. What was the largest earth-moving project in history resulted in the creation of lakes Marion and Moultrie, 160,000 acres of natural paradise spanning sections of Berkeley, Calhoun, Clarendon, Orangeburg and Sumter counties.
When on the waters of these lakes or their 450 miles of shoreline, it's hard to imagine a time when there were only pine forests and swamp in their place. Lake Marion is South Carolina's largest lake, and Lake Moultrie is the state's third-largest.
The lakes system provides 15,000 acres of federally managed land and water at the Santee National Wildlife Refuge, and an additional 18,250 acres are managed as Wildlife Management Areas by the South Carolina Department of Natural Resources. Nature can take full credit for the region's intrinsic beauty, but man also deserves credit for the efforts to protect and preserve the Santee Cooper Lakes' environment and maintain these areas as natural habitats.
This mix of utilization and conservation is what Santee Cooper strives to achieve. For us, protecting and improving the environment is as important as providing affordable electricity.
Mosquito Control
Santee Cooper's mosquito control program, currently referred to as Vector Management, was housed in our first permanent building in the late 1930s. We were instrumental in the eradication of malaria from the region by 1950, and we continue to control disease carrying and nuisance mosquitoes.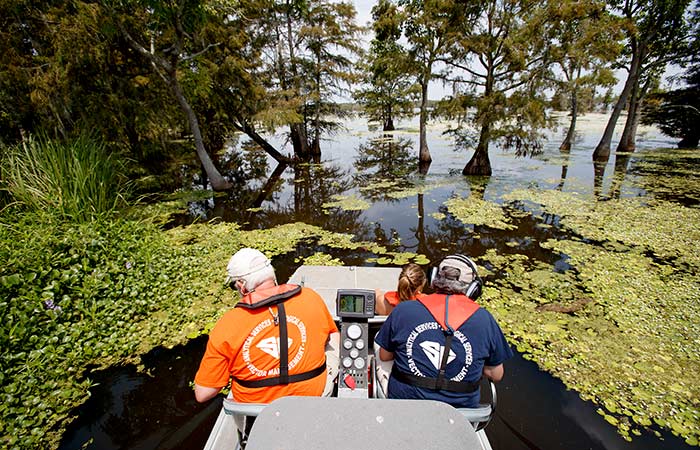 Aquatic Plant Control
Santee Cooper's Biological Services unit is responsible for the identification and control of invasive and nuisance aquatic plants on the lakes.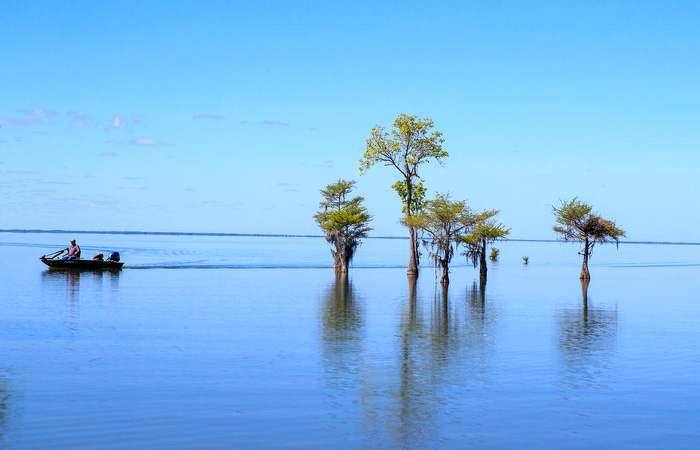 Property Management
Santee Cooper's Property Management division is responsible for the administration and management of the property along lakes Marion and Moultrie.
Maps and Navigation
One of the initial goals of the Santee Cooper Project was to establish a route for inland navigation from Columbia to Charleston. This route is marked from the point where the Santee River enters Lake Marion to the lock at the Pinopolis Dam on Lake Moultrie.
This 162-mile system provides a clearly defined waterway through which boats can safely navigate the lakes. The maps provided on this page are to be used as a guide to recreational use of the Santee Cooper Lakes and are not intended to replace any navigational chart.
All markers are shown in approximate positions. Odd numbered, square, green markers define the port (left) side of the channel, while even numbered, triangular, red markers define the starboard (right) side of the channel. Steer between these markers when navigating the channel.
When encountering an oncoming boat, steer to the starboard side of the channel. For your safety, please heed rock markers and all other navigation buoys. Do not swim in the channel or tie off to the concrete piles that hold the channel markers.
Be aware the same submerged trees and stumps that provide habitat for the abundant marine life and game fish of the Santee Cooper Lakes also pose a hazard to the unfamiliar boater. Use caution when navigating outside the marked channels. A safe channel defined by red and green buoys crosses Lake Marion at marker 62. Call 843-761-7008 if you encounter any problems using the navigation system.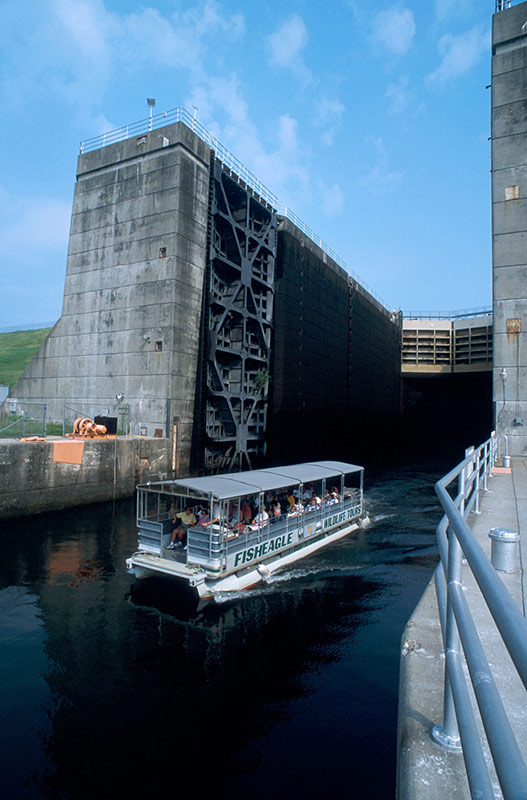 Pinopolis Lock
The Pinopolis Lock at Santee Cooper's Jefferies Hydroelectric Station was the highest single-lift lock in the world at the time of its construction.
Motorized boats between 10 and 150 feet can use the lock to be raised or lowered the 75-foot difference between the Tailrace Canal and Lake Moultrie. The lock is open year-round from 9 a.m. to 30 minutes prior to sunset. During summer months, boaters should arrive no later than 6:30 p.m. to ensure passage.
The lock does not operate during thunderstorms or rough-water conditions. Occasionally, it is necessary to take the lock out of service for periodic maintenance or repair. You are encouraged to call in advance at 843-899-LOCK (5625).
How The Lock Works
The lock operates on a first come, first served basis. Call 843-899-LOCK (5625) for information about lock operations or to speak to a lock operator.

Upon entering the lock, loosely pass a rope around one of the floating cleats provided so it can be readily released if the cleat were to jam. Do not tie-off to floating or non-floating cleats.

Monitor your line while the water level in the lock rises or falls.

Once the water level is equalized, leave the lock slowly (no-wake speed) through the open gates.
Important Notes
To help us operate the Pinopolis Lock more safely and efficiently, please follow these rules:
Due to safety considerations, only motor-powered boats are allowed in the lock. Boats or watercraft must be at least 10 ft. in length and no longer than 150 ft. Motorized personal watercraft, such as Jet Skis, must be tied to boats and personal watercraft operators must board and remain on a boat during the lock operation.


The lock operator determines the maximum number of boats allowed in the lock at one time, depending on the sizes of the boats. Normally a dozen 16-ft. boats can be accommodated at one time.


The areas passed through while approaching the lock are to be used only while entering or exiting the lock. The area of the Tailrace Canal immediately in front of the powerhouse is a state fish sanctuary. State law prohibits fishing in this area.


Boaters must obey all signs and lock operator's instructions.


The locking procedure takes between 20 and 45 minutes to complete. Keep in mind the hours of operation. Showing up at the last minute may result in having to wait until the following day to pass through the lock.


Whenever possible, call 843-899-LOCK (5625) in advance. This will reduce the amount of time you may have to wait for a lock operator.


No smoking or consumption of alcoholic beverages is permitted in the lock.


No swimming or diving is permitted inside the lock or within 600 feet of the powerhouse.


All boaters should remain seated and have life jackets or other approved floatation devices immediately available during locking operations.


All state laws are enforced by SCDNR.


Do not approach the lock, powerhouse or dam during thunderstorms or rough water conditions.


Stay clear of the upstream (Lake Moultrie) end of the lock during locking procedure. Your boat is in danger of being caught under a concrete outcropping.
Manatee Warning
Manatees are a threatened species throughout their range, and due to federal and state protections, it's illegal to hunt, play with, or harass (touch or feed) manatees. Some manatees migrate from Florida to the waters of South Carolina between March and September, and they are regularly found in the Cooper River between Charleston and the Pinopolis Lock.

Because they surface frequently and move relatively slowly, these gentle creatures are subject to injury from boats and lock operations. Boaters should be on the lookout for manatees in the Cooper River Tailrace Canal and should avoid them if spotted. Boaters should also advise the Pinopolis Lock operator if they see a manatee in the vicinity of the lock. The lock operator will implement procedures to discourage the manatee from entering the lock and may temporarily suspend lock operations to ensure that the manatee is not passed from the Cooper River Tailrace Canal into Lake Moultrie. Boaters may also be asked to strike the water with their boat paddle to help discourage entry.
More information about manatees in the Lowcountry and ways to minimize the risk of harming manatees while boating can be found in the following SCDNR press release:
Boat carefully and report sightings as manatees return to South Carolina
Manatee sightings should also be reported to the South Carolina Department of Natural Resources using their Manatee Sighting Form.
Safe Boating Tips
The Santee Cooper Lakes are one of South Carolina's greatest recreational resources. Here are a few tips to help you enjoy them safely.
Alcohol and lake water don't mix! Do not operate a boat if you've been drinking. Using alcohol dramatically increases your chances of being involved in a boating accident. Boating under the influence is an offense punishable by fines and loss of your boating privileges.
Wear your personal flotation device (PFD) at all times. It's estimated that 90% of boating fatalities could have been avoided by wearing a personal flotation device.
Children should wear PFDs any time they're near water.
Make sure your boat is in good operating condition. Taking a few minutes to check your boat before you cast off could save you hours of drifting if you encounter a problem.
Take care when fueling, and do not smoke.
Keep an eye on the weather. Check for boating and weather advisories. Storms and high winds can come up quickly, creating dangerous conditions. Head for a shelter at the first sign of bad weather. If you're caught in rough water, stay low in the boat and head into the waves. Wear your PFD.
Avoid standing in your boat. If you must, stand in the center of the boat and hold onto the gunnels on both sides.
Know your boat's capacity. Do not overload.
Do not boat or ski through swimming areas.
Observe all markers and buoys, especially the no-wake zones around marinas and congested areas.
Use marked navigation channels whenever possible. Stay alert at all times. Floating logs on the surface and neutrally-buoyant logs just below the surface can drift into channels. Do not tie off to channel markers.
Use extreme caution when navigating outside of marked channels.
The same underwater stumps and rocks that provide habitat for the lake's abundant marine life pose a hazard to the unfamiliar boater.
When pulling a skier, allow a safe distance from shore. Always have a second person aboard to watch the skier.
Sailboats under sail generally have right of way over powerboats.
When overtaking a boat, the boat being overtaken has right of way and must maintain course and speed. Generally, you should pass the boat on its port side. Take care to slow down while passing small boats to minimize your wake.
When two boats are heading directly toward each other, each should alter course to the right and pass portside to portside.
When two boats are crossing, the boat to the right has the right of way and should maintain course and speed, the other boat should alter course to the right so the vessels pass port to port. Be courteous.
There's plenty of room on the Santee Cooper Lakes for everyone to enjoy them. Fishermen should shy away from anchoring in open channels. Water skiers should not spray fishermen and other boats.
Don't swim if you've been drinking alcohol. As with boating, alcohol and swimming don't mix.
If you don't know how to swim, wear a PFD. Learn to swim. The American Red Cross and several other agencies offer swimming lessons.
Never swim alone, no matter how experienced you are.
Swim only in designated areas. When outside of these areas, stay close to shore and keep an eye out for boats and skiers.
Do not dive. Changing water levels make it hard to judge lake depths even in areas you know, and you could strike objects hidden beneath the water.
In Case of Emergency
Laws on the Santee Cooper Lakes are enforced by SCDNR. In case of an emergency dial 911, call Operation Game Thief at 800-922-5431 (*OGT or #OGT from a mobile phone) or use channel 16 VHF-FM Marine Radio. Various agencies also monitor CB channel 9.
Lake Marion
Calhoun County Sheriff's Dept. – 803-874-2454
Clarendon County Sheriff's Dept. – 803-435-4414
Orangeburg County Sheriff's Dept. – 803-531-4647
Sumter County Sheriff's Dept. – 843-436-2774
Lake and Stream Data
Call 800-92-LAKES for real-time information regarding the Santee Cooper Lake system. The Pinopolis Lock operator can be reached at 843-899-LOCK.
Real-time lake and stream data:
Lake system maps: