Hurricane Information
Hurricanes can cause catastrophic damage to coastlines and several hundred miles inland. They can produce winds exceeding 155 mph, tornadoes and microbursts. Hurricanes can also create storm surges in coastal areas and cause extensive damage from heavy rainfall. Floods and flying debris from excessive winds are just some of the deadly and destructive effects of these formidable weather events. Keep scrolling for information on what to do before, during and after a storm and the steps Santee Cooper follows for power restoration.
If a hurricane is likely in your area, tune to your local media for the latest developments. You can also follow Santee Cooper on Facebook and Twitter for information related to storms and outages.
Be Prepared for Hurricanes
The Atlantic hurricane season is June 1 to Nov. 30.
Before a Storm
Be prepared! Have a plan.
When weather disasters pose a threat to our service area, a range of emergency plans are activated throughout Santee Cooper. The common goal is to be prepared for the weather and to be ready to respond accordingly. We review and practice these plans annually to make sure they benefit from our past experiences and best practices.
Disaster planning is something we encourage our customers to do personally, as well, because severe weather can bring devastating effects to our communities. Secure your home and turn utilities off if instructed to do so. Fill any bathtubs and other large containers with water for sanitary purposes like cleaning and flushing toilets.
Develop and document plans for your specific risks:
Have a hurricane plan, and make sure everyone in your household knows the plan.
Prepare an emergency kit.
Know your evacuation route, and fuel up and service your vehicles. Be sure to plan for locations away from home if you must evacuate.
Take the necessary precautions to protect your home by covering windows with permanent shutters, plywood panels or other shielding materials.
Bring in any furniture, lawn fixtures or other loose items that might become a hazard in high winds.
Make sure the trees and shrubs around your home are well-trimmed, and clear any loose or clogged rain gutters and downspouts.
Make sure you know your children's school's/daycare's emergency plans.
Pet owners should have plans to care for their animals. Most shelters do not allow pets.
Prepare your boat and be aware of marine safety if you are on or near the water.
Recommended Emergency Supplies
Water (one gallon of water per person per day for at least three days, for drinking and sanitation)
Food (at least a three-day supply of non-perishable food)
Battery-powered or hand crank radio and a NOAA Weather Radio with tone alert and extra batteries for both
Flashlight and extra batteries
First aid kit
Whistle to signal for help
Dust mask to help filter contaminated air and plastic sheeting and duct tape to shelter-in-place
Moist towelettes, garbage bags and plastic ties for personal sanitation
Wrench or pliers to turn off utilities
Manual can opener for food
Local maps
Cell phone with chargers, inverter or solar charger
Prescription medications and glasses
Infant formula and diapers
Pet food and extra water for your pet
Cash or traveler's checks and change
Important family documents (i.e. copies of insurance policies, identification and bank account records)
Sleeping bag or warm blanket for each person
Complete change of clothing including a long sleeved shirt, long pants and sturdy shoes
Fire extinguisher
Matches in a waterproof container
Feminine supplies and personal hygiene items
Mess kits, paper cups, plates, paper towels and plastic utensils
Paper and pencil
During a Storm
Remember that hurricanes are large, powerful storms that can suddenly change speed and direction. Check frequently on the storm's progress until all National Weather Service watches and warnings for your area are canceled.
Stay inside away from windows and doors.
Be alert. Tornadoes are often spawned during hurricanes.
If the eye of the storm passes over your area, be aware that severe conditions will return with winds for the other direction in a short time.
After a Storm
If electric power is lost:
Check to see if neighbors' lights are off.
Check fuses or breakers in your breaker panel.
If fuses or breakers are okay, contact Santee Cooper. Please remember that during major outages, our outage reporting system and telephone lines will be busy much of the time. You may have to try many times before your call is answered.
Turn off all electrical appliances.
Keep refrigerator and freezer doors closed. Open only when necessary.
Never touch a downed power line. Lines that seem de-energized could be energized and deadly if touched. Report hazards such as fallen or sparking power lines, broken gas or water mains, overturned fuel tanks, etc., to police or utilities immediately.
Cook, if necessary, in fireplace or outdoors on a grill or camping stove.

Reporting Outages
Be prepared to provide the following information:
Account name and location
Telephone number
Nature of problem (power outage, partial power, dim or flickering lights, etc.)
Any additional information (line down, loud noises, etc.)
When an outage is reported, our team will respond as soon as possible to restore power to your home or business.
Report online or call 888-769-7688.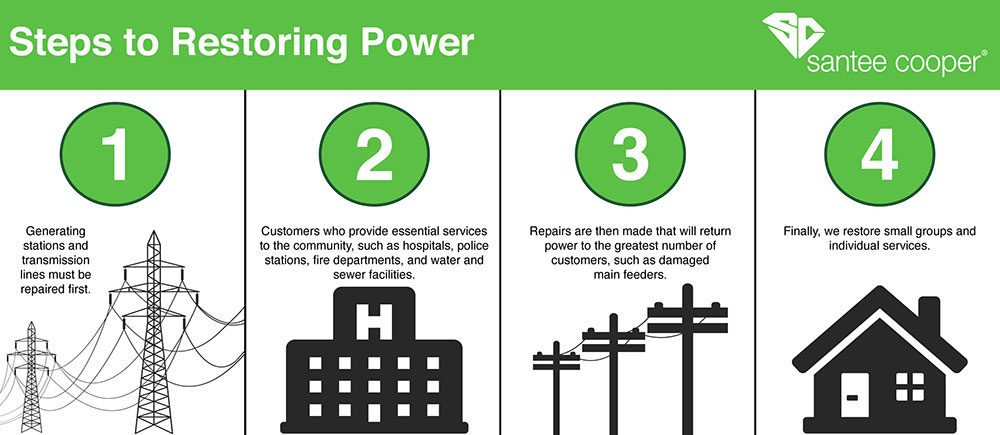 Public Notice
Posted Aug. 4, 2023: Santee Cooper has applied for Federal Emergency Management Agency Public Assistance Program funding through the South Carolina Emergency Management Department as a sub-recipient. View the public notice here.