Tours and Presentations
We provide a range of educational materials and opportunities for students and educators to learn more about Santee Cooper, electricity, electric safety and more.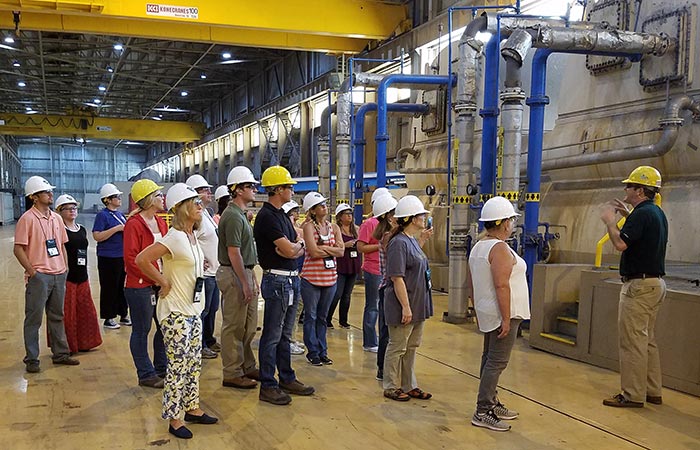 Powerhouse Tours
Santee Cooper Generating Stations
Duration: 60 to 90 minutes
Santee Cooper introduces students to the basic process of generating electricity while touring a generating station.
Fill out the form or call the number below to schedule a tour.
| | |
| --- | --- |
| Cross Generating Station - Cross, S.C. | Request a Tour |
| Rainey Generating Station - Iva, S.C. | 803-352-6110 |
| Winyah Generating Station - Georgetown, S.C. | Request a Tour |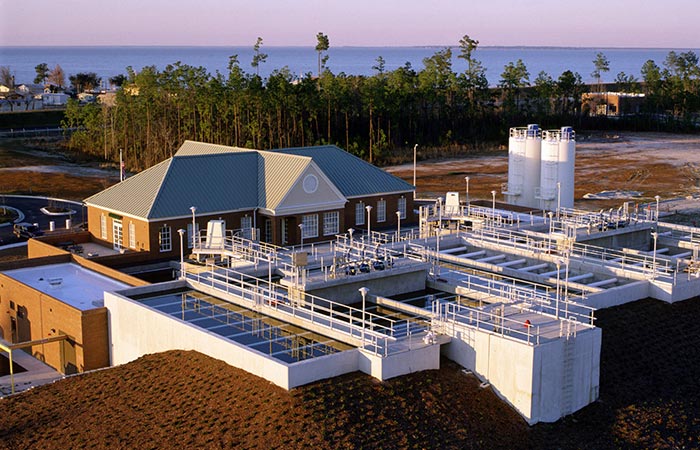 Santee Cooper Regional Water Plant
Moncks Corner, SC
Duration: 45 to 60 minutes
Students will see how water is taken from Lake Moultrie, processed, and delivered to more than 150,000 Lowcountry residents. Students visit the laboratory and observe water quality testing. A presentation illustrates the process for treatment of more than 36 million gallons of water per day and shows the 15,000-square-mile watershed (the second largest east of the Mississippi) that funnels water into 225 square miles of the Santee Cooper Lakes.
Presentations
Presentations on the following topics are available in Berkeley, Georgetown and Horry counties. Call 800-804-7424 ext. 3030.
Neighborhood Hazard Demonstration (1st-3rd grade)
Duration: 45 minutes (approx.)
This is an electrical hazard demonstration for first, second and third grade students. Figurines, representative of people in a neighborhood, are placed in dangerous situations where appliances or utility equipment can shock them. Seeing these figurines actually "shocked" by discharging capacitors gives the class a lasting understanding of the hazards of electricity. (Science/Health/Safety)
Request Now
Don't be a Pathway for Electricity (4th grade)
Duration: 60 minutes (approx.)
This program for fourth graders covers the hazards of electricity and lightning. Hands-on demonstrations make this presentation interactive and engaging. (Science/Health/Safety)
Request Now
Who Came Down That Road (5th-8th grade)
Duration: 50 minutes (approx.)
This environmental presentation will take students in grades five through eight on a historical walk through South Carolina's past. They will learn how Santee Cooper brought electrical power to the rural areas of South Carolina and played a major role in revitalizing a dying region. (History/Social Studies/Language Arts/Environmental Science)
Request Now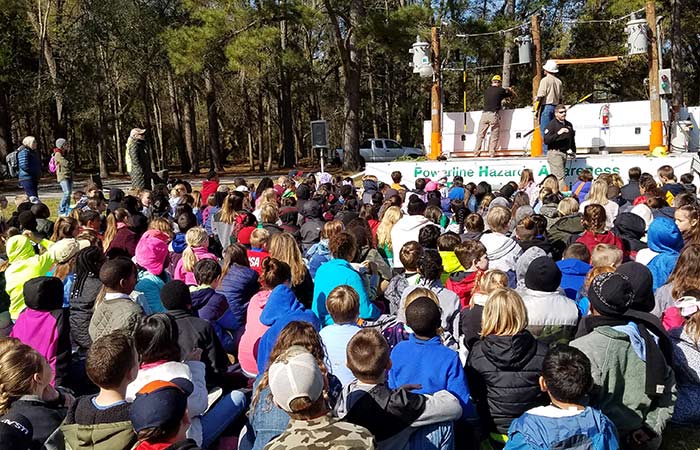 Power Line Hazard Awareness Demonstration (3rd grade and higher)
Duration: 40 minutes (approx.)
Santee Cooper's PHAD unit is a mobile demonstration platform that simulates live power lines and gives the audience an opportunity to see an up-close and dynamic view of electricity. Utility poles, actual electrical conductors and distribution transformers are used. Each demonstration shows what can happen when objects such as animals, trees, ladders and kites come in contact with power lines.
Demonstrations are presented to schools, civic organizations, church groups, fire departments, and other business and industry groups to help educate the public about the dangers and hazards associated with overhead and underground power lines.
You may also print and fax the information to:
PHAD
Training Department
Santee Cooper
843-761-4114
Request Now