Johns Island Transmission Project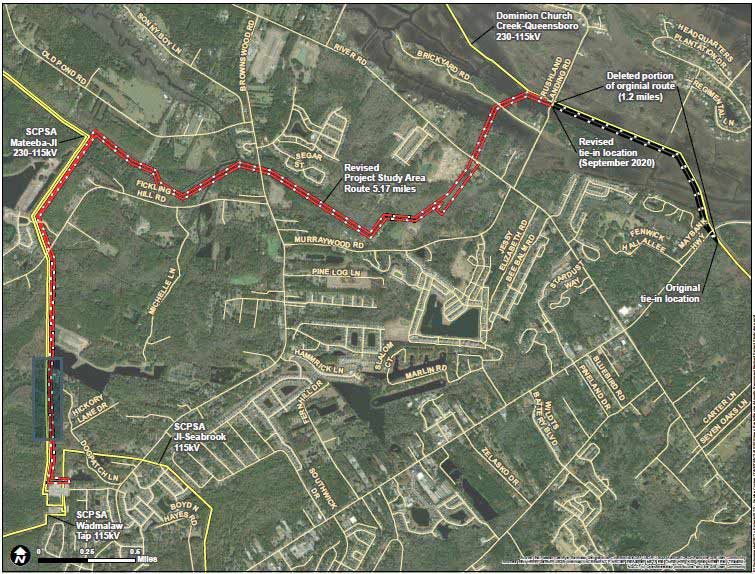 Overview
Johns Island residents and businesses receive their electricity from Berkeley Electric Cooperative, which is served by Santee Cooper, and from Dominion Energy. Currently, Johns Island has only one transmission line (230kV) onto the island, making electric service on Johns Island vulnerable and more susceptible to outages, especially during storms.
This is why Berkeley Electric Cooperative, Dominion Energy and Santee Cooper have a combined need for a new transmission line on Johns Island. The Johns Island-Queensboro 115kV Transmission project will be constructed by Santee Cooper and Dominion Energy to strengthen electric reliability for Johns Island residents and businesses. This project includes construction of an additional 115kV power line and an interconnection with Dominion Energy to improve the reliability of electric power.
Santee Cooper's portion of the project is approximately 5.1 miles in total length. Approximately 2.2 miles abuts or uses existing right of way. Approximately 2.9 miles requires new right of way. Dominion's portion is approximately 6.1 miles. All of Dominion's work is on existing right of way.
The project will benefit Johns Island, Seabrook, Wadmalaw and Kiawah Island residents and businesses by providing stability, increasing electric reliability, and increasing resiliency. The new line is subject to the most up-to-date standards and codes, making it more resilient than the current line, which was built in 1986.
Santee Cooper and Wood Environment & Infrastructure Solutions Inc., an environmental consultant, spent many months analyzing routes, environmental impacts, historical impacts, and property impacts. The chosen route and planned construction techniques minimize those impacts as much as possible.
We conducted a public outreach meeting on Johns Island in June 2018 to talk with residents and landowners about the project. Since that time, we've worked with many landowners, residents, community groups and environmental groups.
Click here for a list of public outreach and see the Q&A below.
Frequently Asked Questions