Marion-Conway Transmission Project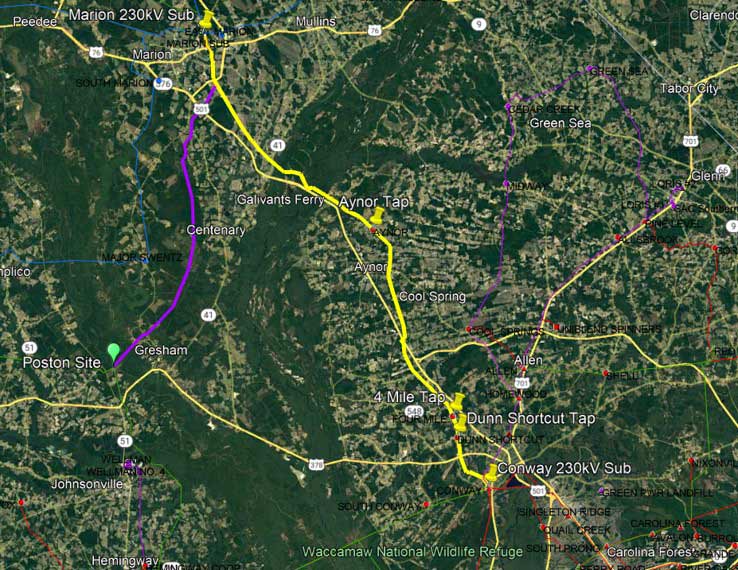 Overview
To provide energy support and maintain system reliability in the Northern Area, Santee Cooper is upgrading our electrical grid. The Marion-Conway transmission project includes:
Rebuilding and upgrading an existing transmission line, which stretches approximately 34 miles from the existing Marion substation in Marion County to the proposed Conway Switching Station in Horry County. The current line is 115kV and the new construction will upgrade the 115kV line and add a 230kV line.
Constructing a new 230kV switching station adjacent to our existing Conway 115-34.5kV substation.
Transmission Power Line Upgrade
The transmission power line upgrade includes replacing wooden poles with single pole steel structures. The scope of work includes surveying, soil boring, power line construction, and clearing trees growing in the easement.
We are utilizing existing right of way and acquiring only six additional easements, which are adjacent to existing right of way. Four of those easements are for the route around the existing 4-mile Horry Electric Cooperative (HEC) substation, which benefits HEC.
Transmission line clearing and construction is scheduled from May 2022 to August 2024.
Switching Station Construction
Santee Cooper will construct a new 230kV switching station on a previously purchased site, which is adjacent to our existing Conway 115-34.5kV substation in Horry County.
As part of this construction, we will be "folding in" our existing Hemingway-Red Bluff 230kV transmission line and preparing a terminal for the new Marion-Conway 230kV transmission line. The proposed in-service date is March 31, 2025.
This property has an existing waterline easement for the City of Conway between our existing 115-kV station and the proposed 230-kV station. We are working closely with the City to relocate the 24" waterline around our substation. To do this, Santee Cooper has agreed to allow the City to have an easement along our property where the waterline will be relocated. We are working with the City to relinquish their current easement through the middle of the property to allow Santee Cooper to begin construction and to relocate the waterline by June 1, 2023, so we can meet our switching station in-service date.
Frequently Asked Questions
Transmission Line Timeline
Transmission line clearing and construction is scheduled from December 2022 to August 2024, with line clearing completed by the end of 2023.
| | |
| --- | --- |
| December 2022-September 2023 | Construction from Marion Substation to Aynor Substation |
| September 2023-January 2024 | Construction from Aynor Substation to 4-Mile Horry Electric Co-op Substation |
| January 2024-June 2024 | Construction from 4-Mile Substation to Dunn Shortcut Horry Electric Co-op Substation |
| October 2024 | Transmission line completion date. The line will not be in service until the Conway Switching Station is complete. |
Switching Station Timeline
| | |
| --- | --- |
| Oct. 17-Oct. 30, 2022 | Hemingway-Red Bluff 230-kV transmission line temporary relocation work. |
| July 2023-December 2023 | Switching Station site development (building up the site pad) |
| Jan. 2024 - Feb. 2024 | Switching Station fence installation |
| Feb. 2024 - June 2024 | Foundation construction |
| July 2024 - March 2025 | Switching Station construction |
| Dec. 2024 - Feb. 2025 | Hemingway-Red Bluff 230-kV transmission line final phase of work to pull into the Switching Station |
| March 2025-April 2025 | Station checks and testing |
| March 31, 2025 | Switching Station in-service date |