80,000 Oak Trees Planted at Camp Hall, Reaching Milestone in Wetland Restoration Project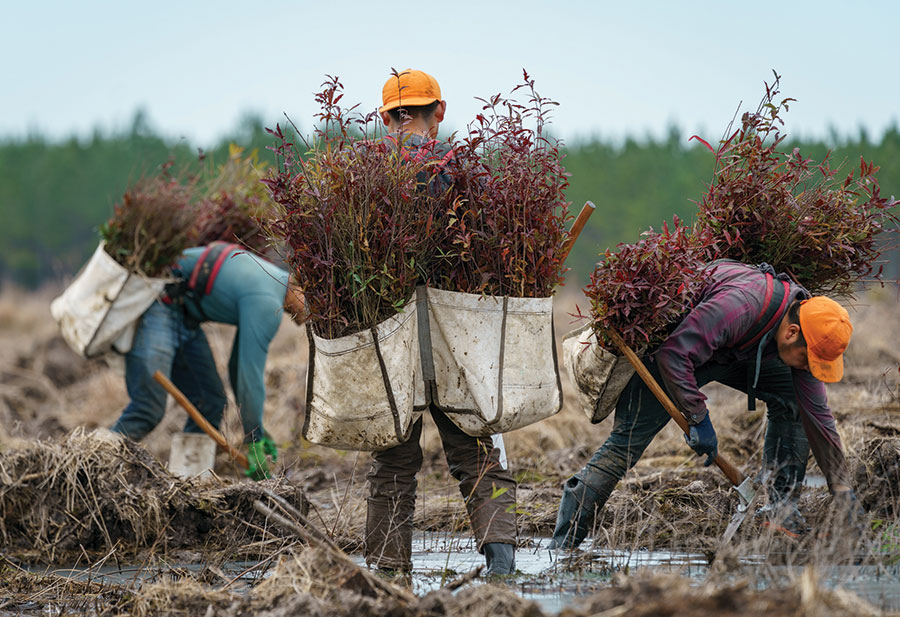 MONCKS CORNER, S.C. – The nation's next generation commerce park, Camp Hall, reached a milestone in its wetland restoration efforts, with the recent planting of 80,000 oak seedlings on 164 acres this winter.
Another 300 acres will be prepared and planted with native hardwood seedlings within the next two years. Once planting is complete, Santee Cooper forestry personnel are responsible for monitoring the progress for five years.
The Camp Hall wetlands project is the latest commitment by Santee Cooper to return property it owns to its native origin, erasing industrial impacts and even improving on its original condition. A similar effort is underway in Conway, South Carolina, where the utility is restoring approximately 380 acres that include excavated and cleaned former ash ponds and an industrial cooling pond. Santee Cooper has planted approximately 70,000 seedlings at the site since 2019 and sowed additional seeds. This month, the utility planted 40 larger tree seedlings and 200 cattails at the former Grainger Station ponds.
Santee Cooper purchased Camp Hall in 2015 and has committed to provide permanent protection of approximately 2,650 acres, including 1,265 acres of freshwater wetlands and the restoration of wildlife habitat for native South Carolina species.
In August 2016, the utility developed and submitted its Camp Hall mitigation plan, and necessary timber harvesting began in 2017. After securing an herbicide application last summer, crews started clearing trees and leveling the ground through the winter before planting the native hardwoods.
"Essentially, we've set the site back to its original condition through eliminating competing vegetation and establishing the original contour of the land," said William Johnson, Forestry and Undeveloped Lands Supervisor at Santee Cooper. "We'll continue to plant native hardwood species that were common on the site prior to its conversion to a pine forest decades ago."
The advantages of returning former or degraded wetlands' biological, physical and chemical characteristics back to their native environment are crucial. Wetlands provide important habitat and sources of food for animals, and at Camp Hall that includes white-tailed deer, eastern wild turkeys and several bird species, among others. Restoration also enhances the biological and ecological diversity of the site, ensuring the area thrives for generations to come.
"The scale and progress of the wetland restoration is truly amazing. Our team has done an incredible job returning a pine logging operation to its beginnings as a mixed hardwood forest that serves as the headwaters of Timothy Creek," said Dan Camp, Santee Cooper's Senior Director of Real Estate and Camp Hall. "Already the wading birds are returning. In fact, recently we watched an eagle fly over, causing a number of egrets to scatter."
"One of the biggest draws to the Lowcountry is our abundant natural beauty," said Old Santee Canal Park Director Brad Sale, who holds a Bachelor of Science in marine science and biology, and a master's degree in education. "As we continue to be a leader in growth, I'm pleased to see Camp Hall responsibly redeveloping these wetlands with native species, thus maintaining the beauty of Berkeley County and the natural habitat for native species."
Santee Cooper is maintaining an environment at Camp Hall that supports and encourages the natural habitat of coastal South Carolina. In addition to restoring wetlands, the utility is creating more than 15 miles of a multi-use trail system that will provide a place for the local workforce to walk, run and bike. Nearly 28% of the entire site will be preserved and a recently completed "Pollinator Pathway" is already blooming for birds, bees and butterflies.