7 Tips For Staying Safe On Camping Trips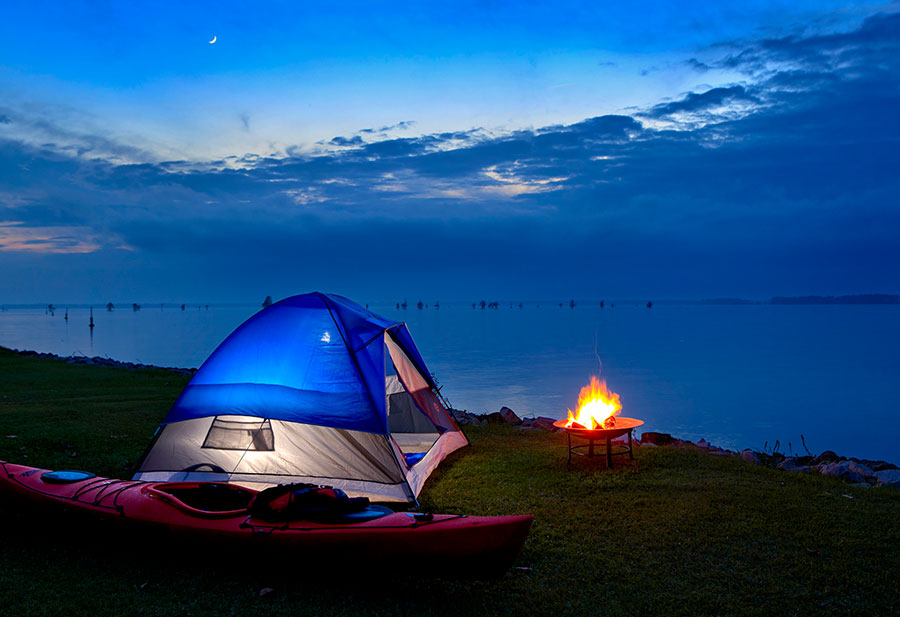 As spring and summer heat up and bring new life to the great outdoors, they also bring new excitement around getting outside and camping. As of 2019, there were more than 82 million active camping households in North America.
With many places to explore and set up camp overnight, it's important not to get too comfortable with the familiarities of home and remember to stay alert and stay safe during your next camping trip. Here are our top tips to remember when setting out on your next adventure.
Plan the trip ahead of time
Knowing what kind of shelter you're going to be using, where you'll be staying, the amenities available to you, and the weather forecast during the trip will help you better prepare for the activities and conditions ahead. Some people prefer easy walks and bird watching on camping trips while others may want to take more strenuous hikes or go on a whitewater rafting adventure. Understanding your group's health and fitness levels and appropriate activities will help determine the best place to explore and camp together. Planning ahead will also help you prepare for any permits and regulations you need to adhere to at campsites.
Pack appropriate equipment
There's not one universal packing list for a camping trip because every location has different needs. Understanding the climate and landscape will help you pack clothing and gear for activities, but you should also bring a selection of basic essential tools and supplies. That includes navigational supplies like a map, GPS and compass, flashlights and headlamps, a first-aid kit for medical emergencies, fire-starting supplies like waterproof matches or a lighter, extra food and water, and a phone or a two-way radio for communication. And don't forget to test your equipment to make sure it functions properly before you leave for the trip.
Know fire safety precautions
Campfire safety keeps everyone safe. Remember to start your campfire in a contained area like a fire pit at least 15 feet away from your tent or camper and any trees or brush. Never leave the fire unattended, and keep a water bucket nearby to drown the embers before you leave the area or go to sleep.
Hydrate
If you're feeling thirsty, you're already dehydrated, so it's important to continue to drink enough water throughout the day to keep your body hydrated throughout your camping trip. Replace electrolytes by drinking sports drinks or eating salty snacks. Using a hydration pack instead of a water bottle can also help you stay more hydrated since it holds more water and makes it more easily accessible with a straw that sits close to your mouth.
Protect yourself from the sun
It doesn't have to be entirely sunny for you to get a sunburn. UV rays are present even on cloudy days. Sunburns are not just painful but can lead to skin damage and an increased risk of skin cancer. Wear long sleeves, hats and sunglasses, and walk or hang out in the shade when you can. It's also smart to use sunscreen with at least SPF 15.
Respect the wildlife
You're in other animals' natural habitats, so it's important to leave them alone while you're around. Stay at a safe distance and don't touch nearby animals. Also, avoid feeding any wildlife. This increases the likelihood that they will approach other campers in the future for food. Keeping your food in your car, camper or an airtight container also decreases the risk of attracting animals. Making sure your area is kept clean of trash and wrappers will also help deter wildlife from joining your campsite and protect animals who may be harmed by trying to eat them.
Listen to your body
Staying alert of your surroundings and listening to your body's needs will help keep you safe and keep your mind fresh for making decisions while you're camping. Getting plenty of rest, limiting your alcohol consumption and paying attention to your body's cues will help you react better in the event that something happens. Don't push yourself or your group on a hike or other physical activity if you or someone else isn't feeling up to it. There are plenty of ways to have fun, relax and enjoy your camping experience together while taking care of everyone.
For more information on places to camp in South Carolina, visit the South Carolina State Parks website or explore more information about the Palmetto Trail.