Santee Cooper Donates Electric Vehicle Chargers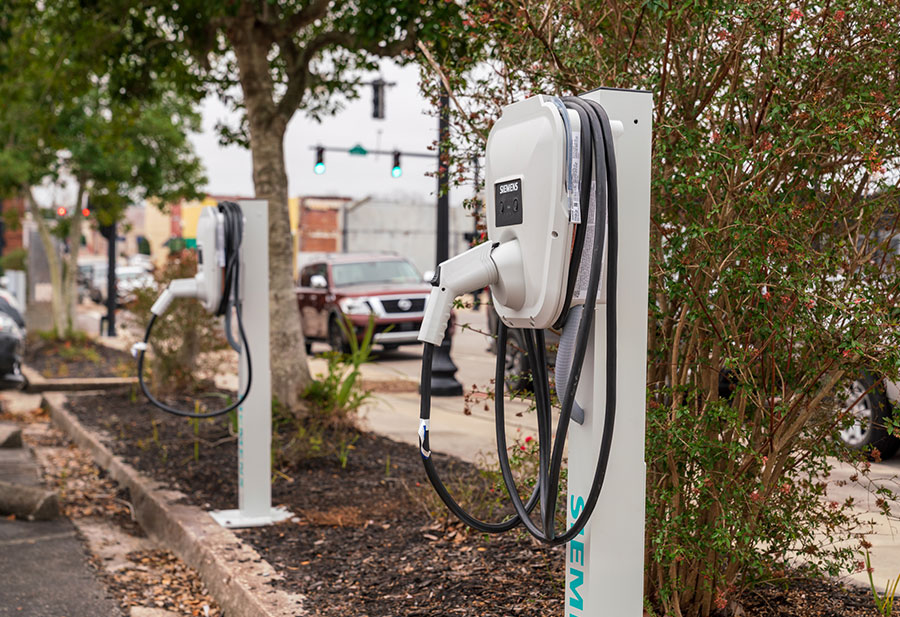 MONCKS CORNER, S.C. – Santee Cooper is helping make owning – or at least charging – an electric vehicle a little easier. Recently, the utility upgraded outdated electric vehicle chargers across Horry County.
Santee Cooper, in conjunction with Plug-in Carolinas, installed the chargers 10 years ago and turned over ownership to their respective owners. In the years since, some of the chargers had been removed and others no longer worked.
Santee Cooper helped these entities bring their chargers into modern times so they can be used by community members and visitors who own electric vehicles. The utility supplied and installed two chargers in the City of Conway, two at Coastal Carolina University, two in Horry County at the library in Conway, and one at Horry-Georgetown Technical College.
"We hope this donation will bring an added amenity to the areas we serve so electric vehicle drivers know they are welcome and have a place to recharge," said Jim Rabon, Senior Manager of Conservation and Energy Efficiency at Santee Cooper. "Electric vehicles are becoming more affordable and therefore, more common, and we want to stay ahead of this trend and help our community."
Carmakers are promising drivers the next generation of plug-in electric vehicles will have at least 300 miles of battery range on a single charge. Electric vehicles have the added advantage of being better for the environment, especially those getting their charge from clean energy sources, which greatly reduce the amount of greenhouse gas emissions associated with driving.
Santee Cooper also is offering its residential customers a rebate of up to $500 for qualified and installed level 2 electric vehicle chargers though its EmpowerAuto program. Details on the rebate program are at santeecooper.com.