Chanticleers Go Green with Santee Cooper This Football Season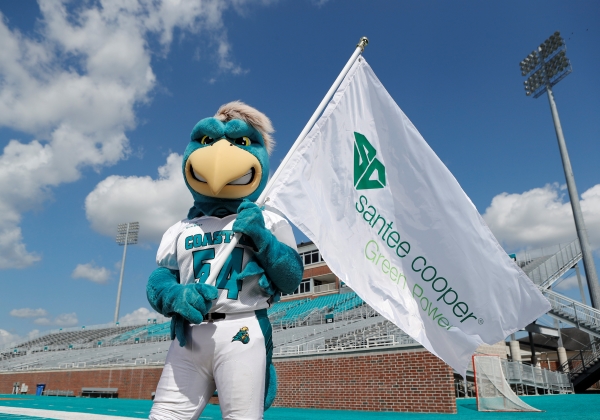 MONCKS CORNER, S.C. – Coastal Carolina University is "going green" during all home football games this season by partnering with Santee Cooper and purchasing Santee Cooper Green Power.
The Chanticleers have used Santee Cooper Green Power for several years to power their Zero Waste football game, which is sponsored by Horry County Solid Waste Authority. This is the first year the entire home season will be fueled with Green Power.
"By choosing Green Power to fuel the Chanticleers football games, CCU is once again demonstrating their commitment to a sustainable community," said Mike Poston, Chief Customer Officer at Santee Cooper. "In fact, the home game lineup now counts as one of the largest Green Power events in the state."
Santee Cooper Green Power is electricity generated from renewable resources like wind, solar and landfill gas. Santee Cooper Green Power helps preserve the environment, reduces demand on our non-renewable generation resources, and increases our energy independence.
"We are always looking for opportunities that support our commitment to environmental sustainability," said Jeremy Monday, Senior Director of Campus Environments at CCU. "It takes a lot of power to run a college football game, and partnering with Santee Cooper to power all Chanticleer home football games with Green Power allows us to share this commitment with all of our fans."
Santee Cooper's statewide Green Power generating portfolio includes six landfill generating stations, nine solar projects and one wind turbine. Green Power is Green-e Energy certified and meets the environmental and consumer protection standards set forth by the nonprofit Center for Resource Solutions. Learn more at www.green-e.org.
Customers can purchase blocks of Green Power each month, and Santee Cooper reinvests all Green Power revenue into new or expanded sources of renewable energy. Residential customers can buy as little as 100 kWh for $3 per month and additional 100 kWh blocks for $3 each. Commercial customers can purchase 200 kWh blocks for $6 each. Customers also can power their events, big or small, with Green Power.
Proceeds from Green Power sales have been used to help build solar farms, demonstration solar projects and 28 Green Power Solar School demonstration projects, 25 of which partner with South Carolina's electric cooperatives. The other three are direct Santee Cooper customers or receive their electricity through a municipality we serve.
Santee Cooper is South Carolina's largest power provider, the ultimate source of electricity for 2 million people across the state and one of America's Best Midsize Employers as named by Forbes. Through its low-cost, reliable and environmentally responsible electricity and water services, and through innovative partnerships and initiatives that attract and retain industry and jobs, Santee Cooper helps power South Carolina. To learn more, visit www.santeecooper.com and follow #PoweringSC on social media.