What Are Green Power Events?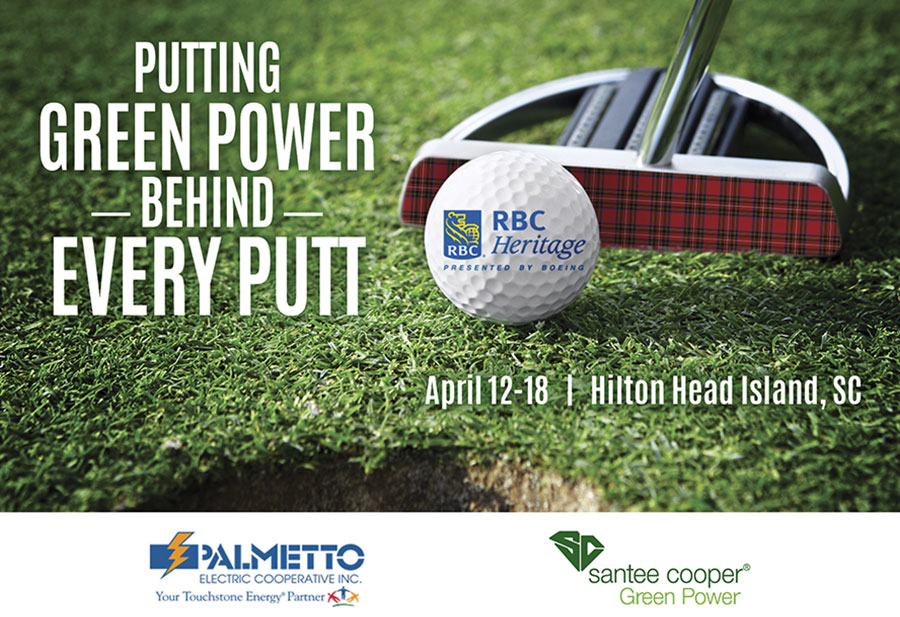 As we work toward a greener future – one with increased options for sustainable and renewable resources, Santee Cooper is proud to offer homegrown Green Power as an environmentally conscious option for powering community events in our service area.
Green Power, or the power Santee Cooper generates through renewable resources like wind, solar, and landfill gas, provides power for dozens of events throughout the year. One of the most notable Green Power events in the spring is the annual RBC Heritage golf tournament on Hilton Head Island, South Carolina. The RBC Heritage, Palmetto Electric Cooperative and Santee Cooper partner to make it a Green Power Event.
Santee Cooper became the first utility to generate Green Power and offer it for sale in South Carolina in 2001. Currently, Santee Cooper's Green Power generation portfolio is made up of six landfill generating stations, nine solar projects and one wind turbine. Throughout the week of the tournament, these renewable resources provide electricity for the thousands of people who visit this high-profile event.
By purchasing Green Power to support the events, organizations like RBC Heritage and Palmetto Electric are also choosing to give back to the community by contributing to the continued growth of Santee Cooper's renewable generation resources. For example, 29 Green Power Solar School demonstration projects have been constructed using Green Power proceeds to educate students about the promise and limitations of renewable energy through a curriculum developed by Santee Cooper.
Environmental stewardship is at the core of Santee Cooper's vision and beliefs. By expanding solar and other renewable energy sources, Santee Cooper is working to reduce the state's carbon footprint as well as continually increasing value in South Carolina.
Part of that value is directly reflected in the positive impact on the state's economic development from sustainability efforts and the company's goals to diversify generation methods. By partnering with organizations to host small- and large-scale events like the RBC Heritage, we're working together to reduce demand on our non-renewable natural resources and increase our energy independence.
Green Power is Green-e Energy certified and meets the environmental and consumer protection standards set forth by the nonprofit Center for Resource Solutions. Learn more at www.green-e.org.