"Super Flats" Restoration Project Taking Place in Lake Marion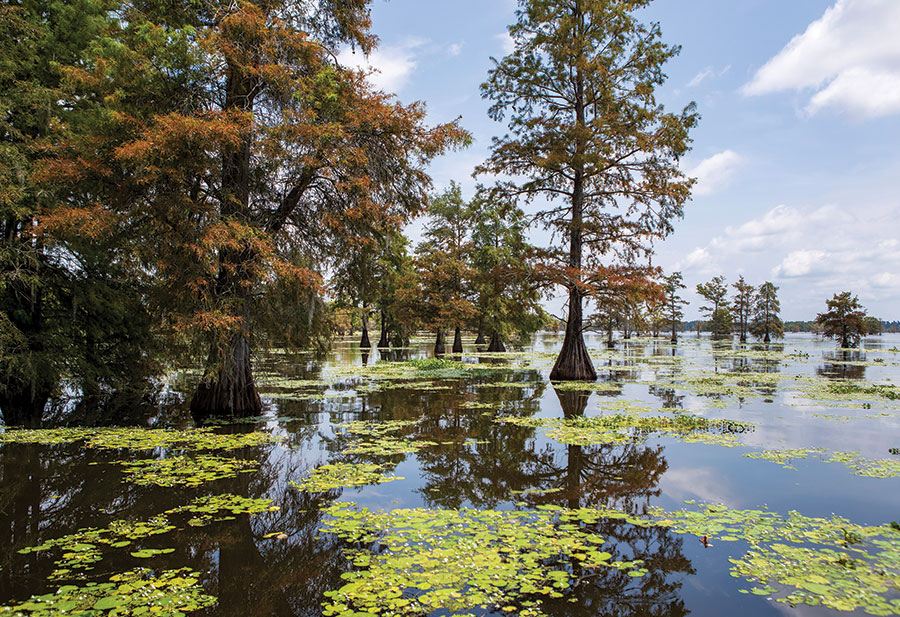 MONCKS CORNER, S.C. – Santee Cooper will be conducting aerial herbicide treatments, by helicopter, on 580 acres of giant cutgrass and giant salvinia around areas in Lake Marion throughout the month of August. The treatment is intended to improve public access for fishing, boating and duck hunting, enhance fish and wildlife habitat, and reduce further spread of giant salvinia to other areas of the Santee Cooper Lakes system.
Giant salvinia is an invasive plant from Brazil. It was found in the lakes in 2017 and has since rapidly spread from upper Lake Marion to other areas of both Lake Marion and Lake Moultrie. Giant cutgrass has also created dense stands restricting public access in the area known as the "Super Flats." Environmental Protection Agency (EPA)-approved aquatic herbicides will be used for the application and pose no water-use restrictions in the areas treated.
The Super Flats Restoration Project will focus on the areas of Persanti Island, Hickory Top, and Jacks Creek in Lake Marion, as much of those areas are now inaccessible because of thick vegetation. The Restoration Project is expected to continue over the next several years.
This is a cooperative project with South Carolina Waterfowl Association, Ducks Unlimited, South Carolina Department of Natural Resources, and Santee Cooper. Inquiries regarding the operation can be made by contacting Santee Cooper at aquaticplantcontrol@santeecooper.com.
You can help control the spread of invasive species. Remove any visible mud, plants, fish or animals before transporting boats and trailers. Eliminate water from equipment before transporting. Clean anything that comes in contact with water (boats, trailers, equipment, clothing, dogs, etc.). Never release plants, fish or animals into a body of water unless they came out of that body of water. Report aquatic weed problems in public waters to the SCDNR Aquatic Nuisance Species Program at 803-755-2872.