Welcome Back to School!
Learn About Energy & Electricity with our Educational Programs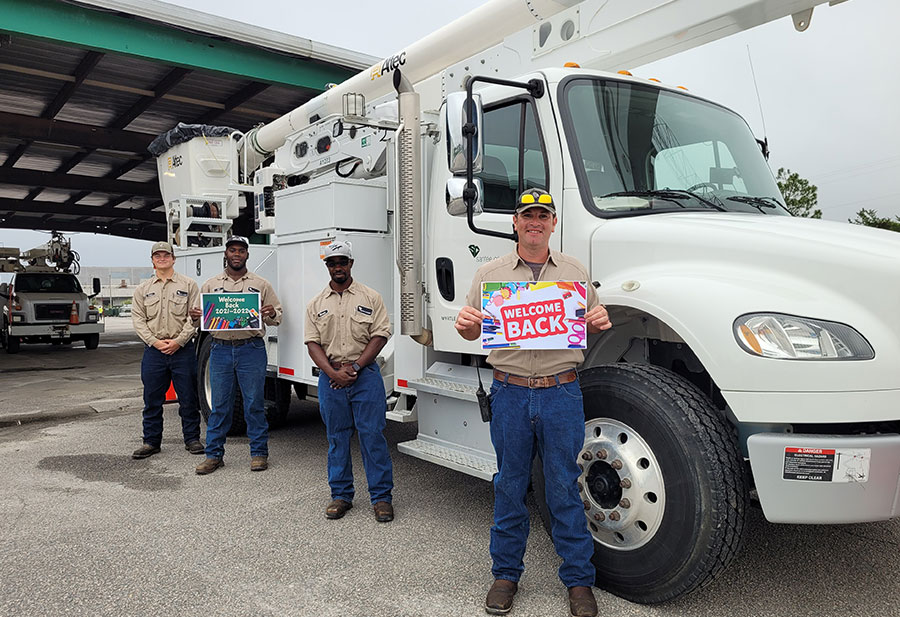 Santee Cooper has a long tradition of supporting South Carolina education. We provide a wide range of educational materials and opportunities for educators and students to learn more about Santee Cooper, electricity, electrical safety, and more. All our resources, lessons and activities are aligned with South Carolina State Education Standards and are adaptable to any topic or grade level.
Classroom Presentations
Santee Cooper offers classroom presentations to schools in Berkeley, Georgetown, and Horry counties. Presentation topics include energy science, electrical safety, energy careers, and Santee Cooper and South Carolina history. These presentations are available to any age group. Hands-on demonstrations make our presentations interactive and engaging. Teachers can schedule a classroom presentation by submitting a Classroom Presentation Request Form.
Santee Cooper Kids Interactive Website
Santee Cooper invites students to become an e-SMART kid by using our games, videos, and activities to learn about electricity and how to use it safely and wisely. Topics include electrical safety, energy science, sustainability, water cycle, renewable energy, energy careers, and Santee Cooper history. The website also provides teacher and parent sections that include lesson plans and experiments. You can access the website here.
Publications
Our free and consumable publications are available in print and digital. Teachers can explore our complete listing of publications and order the materials they need for all their students. Digital booklets are available here. The themes of the publications include careers, electricity, energy, energy conservation and efficiency, energy fuel sources, renewable energy, environment, electrical safety, water cycle, and conservation from prekindergarten to high school level.
Virtual Resources
The Santee Cooper Education Programs Team created virtual lessons and activities for elementary, middle, and high school grade levels. Some of the resources include web quests, interactive lessons, escape rooms, and simple science experiments. These virtual lessons can be used by teachers to introduce a new topic or reinforce and apply learned materials.
Topics for virtual lessons include electrical safety, community helpers, history of Santee Cooper, careers in the electric industry, electrical currents, and energy conservation. Educators can also contact Santee Cooper Education Programs to create a specialized presentation or activity to meet your classroom needs.
Teachers can explore these education resources at the Santee Cooper Teacher Resources Main Page and submit a Request for Santee Cooper's Education Program Virtual Presentation.
Facility Tours
Bring the world of electricity alive by bringing your students on a field trip to a real power generating station. During a tour, highly trained Santee Cooper employees introduce students to the basic process of generating electricity, operating a water plant, or job opportunities in the energy field. Tours are available at our Winyah Generating Station in Georgetown, Cross Generating Statin in Cross, Rainey Generating Station in Iva, and the Moultrie Regional Water Plant in Pineville.
Tours will be available again once COVID-19 restrictions are lifted.
Power Line Hazard Awareness Demonstration (PHAD)
The PHAD unit is a mobile demonstration platform that simulates a power line and gives the students an opportunity to see an up-close view of electricity using life-size utility poles, actual electrical conductors, and distribution transformers. The demonstration helps educate the public about the dangers and hazards associated with overhead and underground power lines. You can schedule the PHAD unit here.
Energy Educators' Institute
Each July, Santee Cooper hosts the Energy Educators' Institute, a graduate level course for certified South Carolina K-12 educators and administrators accredited through Charleston South University. Participants explore the scientific concepts of energy, its sources, and use and impact on the environment, economy and society. A real-world understanding of the power and purpose of electricity is learned through presentations by energy experts, discussion, field experiences and interactive activities. You can be added to the direct mail list for 2022 here.
Old Santee Canal Park
Old Santee Canal Park offers virtual classroom presentations. The park educators can turn any of their historical or environmental education programs into an online lesson or demonstration. Presentations include indigo history, Native Americans of the Lowcountry, swamp things, space, and so much more! Check out the park's science and history programs on their website under Programs.
Learn more about the free school resources and opportunities Santee Cooper provides to educators and communities at www.santeecooper.com/schoolresources.