Hydropower, WWII and Popeye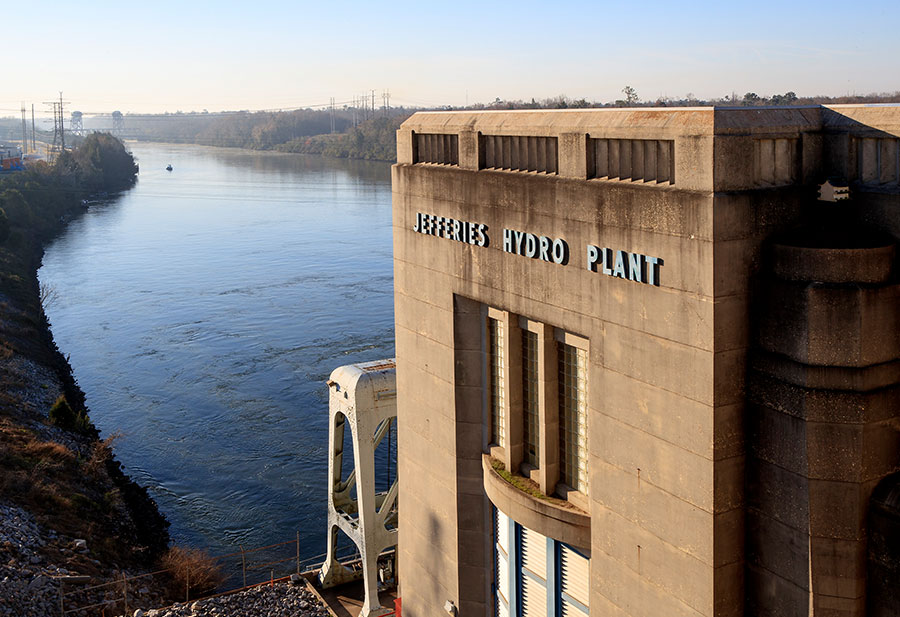 On Aug. 24, Santee Cooper joined utilities across the nation to celebrate National Hydropower Day. This is important nationwide because hydropower is America's first renewable resource and still plays an important role in the country's electricity story.
It's also important locally because Santee Cooper's Jefferies Hydroelectric Station at the Pinopolis Dam continues to provide clean, renewable energy to South Carolinians and has done so for 79 of the more than 135 years hydropower has been powering America.
And, as Santee Cooper transforms to a leaner, greener energy mix, including the addition of 1,500 MW of solar power, hydropower will continue to complement our energy sources.
But what do WWII, rural electrification and Popeye have to do with Santee Cooper's hydro station?
Santee Cooper hydropower has a strong connection to wartime efforts and rural electrification. In 1934, Governor Blackwood signed a bill to create the South Carolina Public Service Authority, known as Santee Cooper, to construct two reservoirs (Lake Marion and Lake Moultrie) and a hydroelectric plant to serve the rural South Carolina population, which in turn would spark prosperity in the Depression-ravaged state..
Construction began in 1939. Just two years later, in 1941, President Roosevelt named Santee Cooper's Pinopolis Power Plant (now Jefferies Hydroelectric Station) a national defense project, and construction accelerated when America joined World War II.
Santee Cooper began generating electricity to support the Allied war effort on Feb. 17, 1942, the same day the USS Triton submarine sank a Japanese freighter off the island Kyushu, halfway around the world. Defense contractor Pittsburgh Metallurgical Company was the hydro plant's first customer. Although that company is no longer in existence, Santee Cooper's U.S. military ties continue with Charleston Air Force Base as a customer on our system.
More recently, Units 2 and 4 were rebuilt and placed back into service in 2016, with improvements that include the latest hydroelectric technology and a 20% increase in generating capacity, to about 36 MW each.
It's difficult to imagine what a historic and massive project this was at the time. Many people across the nation and in South Carolina were following the Santee-Cooper Project's progress and were excited about its completion. In the spirit of "if you build it, they will come," the hydro project – the largest earth-moving project in U.S. history at the time – attracted 65,000 visitors from every state in the union during and immediately after its construction.
Underscoring the nation's anticipation toward the project at the time, the Charleston News and Courier carried "best wishes" from Popeye, Blondie and other favorite comic strips at the time. Chester Gould, creator of Dick Tracy, penned, "the Santee Cooper project makes you proud of America, and South Carolina especially. It's a great step."
We're proud to have clean, renewable hydro energy as part of our energy mix, and that is why we participated in National Hydropower Day, which celebrates hydropower's undeniable contributions to America's clean energy infrastructure. As the renewable resource that integrates the other renewables, like wind and solar, onto the grid, hydropower plays a critical role in advancing America's clean energy future.
According to the National Hydropower Association, nationwide in 2019, hydropower represented nearly 6.6% of total U.S. electricity generation and 38% of renewable electricity generation. The U.S. hydropower fleet is comprised of approximately 2,200 power plants with a total capacity of roughly 80 GW, which includes 91% of U.S. storage capacity (23 GW) of pumped storage.
Hydropower is also a major job creator, employing approximately 66,500 workers in the U.S. Given that hydropower pairs perfectly with other renewables, such as wind and solar, states throughout the U.S. are recognizing that hydropower is needed to help them meet their clean energy targets.
Hydropower enables greater integration of variable renewables into the grid by utilizing excess generation and being ready to produce power during low wind and solar generation periods. Hydropower also has the ability to quickly ramp up electricity generation in response to periods of peak demand
You can learn more about the magnificent feat that is the Santee-Cooper Project, including viewing exceptional historical photos and observations, in the book "Powering Generations, History of Santee Cooper 1934-2009."