Announcing Santee Cooper's EVolve Grant Program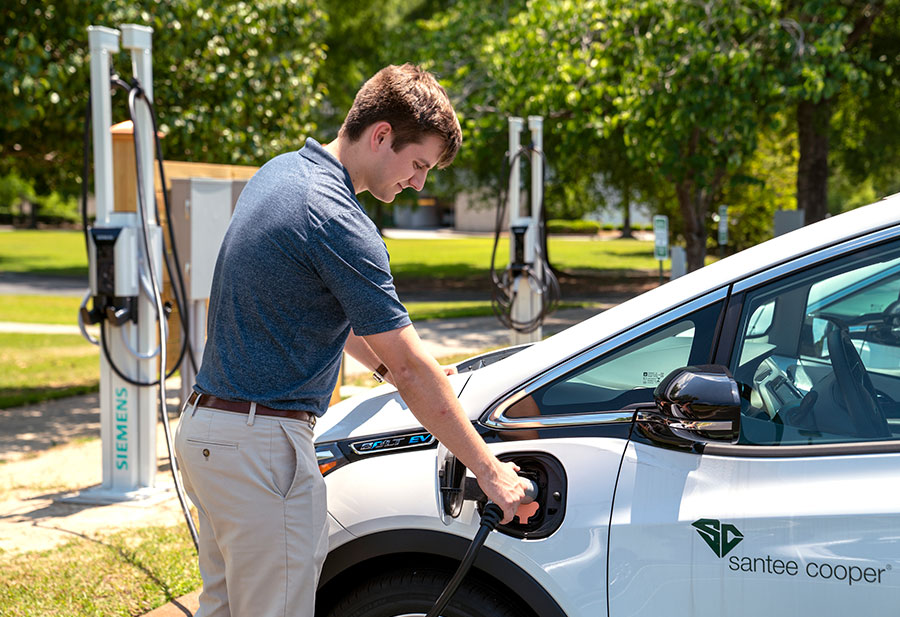 For those of you who watched the Superbowl back in February, you may remember that Cooper Kupp of the Los Angeles Rams won the MVP award, but in my opinion, electric vehicle (EV) commercials came in a close second. Even if you ran to the kitchen for snacks between drives, it would have been hard to miss all of the EV commercials. According to Cars.com, 75% of automaker commercials during the Superbowl focused on electric vehicles.
With most major vehicle manufacturers making commitments to EVs over the next 10-20 years, the interest in purchasing EVs and EV infrastructure seems to be increasing as well. At the end of 2020, Santee Cooper launched our first ever EV program, which gives incentives to residential customers who install level 2 chargers at their homes. We have seen great success with that program, and after that program launched, many commercial customers started reaching out to us to see how they could participate in the program.
From those discussions, we started to understand that there are many types of projects you are interested in. Instead of rushing into a program, we decided to reach out to even more customers to determine what you wanted to the program to look like. We sent out a survey to a few thousand commercial customers and received hundreds of surveys back. The feedback we got was extremely helpful in designing our EVolve Grant Program. As you can see in this chart, one of the key takeaways from that survey was that customers are looking for incentives in a variety of areas.
Instead of a one-size-fits-all approach, we developed our new EVolve Grant Program that lets you design your own project. We know that each EV project is unique, and you want to design it in a way that works best for your needs.
For the 2022 program, we will be accepting projects in the following four major categories:
Make-ready research.
Education/outreach.
EV charging infrastructure.
Electric fleet conversion.
Eligible customers can apply for up to $25,000 in funds from Santee Cooper for their project. $100,000 in funds will be available for the 2022 program year, and all applications will go through a competitive scoring process completed by an independent third-party. Our Board has approved up to $500,000 in grant funds over the next five years, so make sure to get your project ready!
For full details of the program, including scoring criteria, please visit our new EVolve webpage. We look forward to helping you EVolve your EV project from a plan to a reality.
Our EVolve Grant is just one of the many great programs that we offer through EmpowerSC. Visit our EmpowerSC webpage for more information about energy efficiency rebates, solar rebates, residential EV rebates, and our new SmartRewards program which allows you to receive credits directly to your bill.