Santee Cooper Responding to Hurricane Ian Damages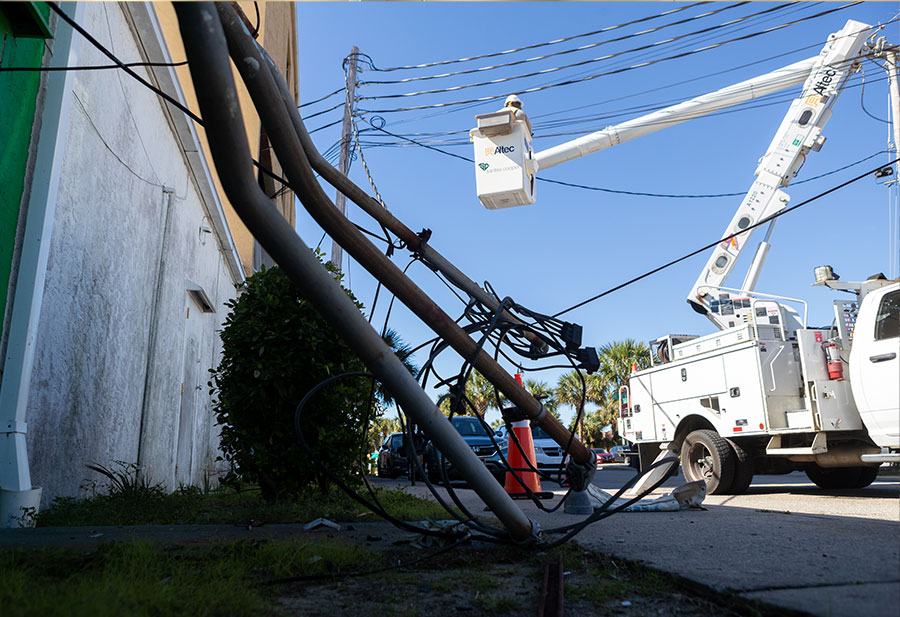 MONCKS CORNER, S.C. – As Hurricane Ian moves through South Carolina, Santee Cooper is continuing to experience storm-related issues on both its transmission and distribution systems.
Trees and other hazards contributed to the loss of several transmission lines affecting power delivery to four of the state's electric cooperatives, Berkeley Electric Cooperative, Santee Electric Cooperative, Marlboro Electric Cooperative, and Lynches River Electric Cooperative. On the distribution side, the hurricane has caused outages across Santee Cooper's retail service territory in the counties of Berkeley, Georgetown and Horry. As of 3 p.m., more than 28,000 distribution customers were without power.
Line and tree crews worked outages until the wind speeds made restoration work unsafe, and they are resuming restoration efforts this afternoon as the wind speeds die down. Helicopters will be out patrolling the system as soon as it is safe for them to fly.
"Our crews won't stop until we successfully restore power to all Santee Cooper customers," Chief Customer Officer Mike Poston said. "We've got 35 contract and mutual aid crews from other states here helping us out, which will ensure we get the lights back on faster. In the meantime, we encourage everyone to stay safe and continue to report new outages to us."
Santee Cooper customers who experience a power outage should:
Check your circuit panel or fuse box. If you have circuit breakers, flip the main breaker switch to the "off" position, then back to the "on" position. If you have fuses, check your fuse box and replace any fuses that have blown.
If it's safe, check the outside disconnect below your meter (not all buildings have an outside disconnect).
Check with your neighbors to see if they have power.
Visit stormcenter.santeecooper.com or call 888-769-7688 to report the outage. Be prepared to give the following information:
• Account name and location.
• Telephone number.
• Nature of problem (power outage, partial power, dim or flickering lights, etc.).
• Any additional information (line down, loud noises, etc.).
Santee Cooper retail offices in Myrtle Beach and Moncks Corner are closed today because of the storm. Customers can call 800-804-7424 to do business with us by phone or use myenergylinksc.com.
The Old Santee Canal Park in Moncks Corner is closed today and tomorrow (Saturday.)