Santee Cooper Restores 70,000 Customers after Hurricane Ian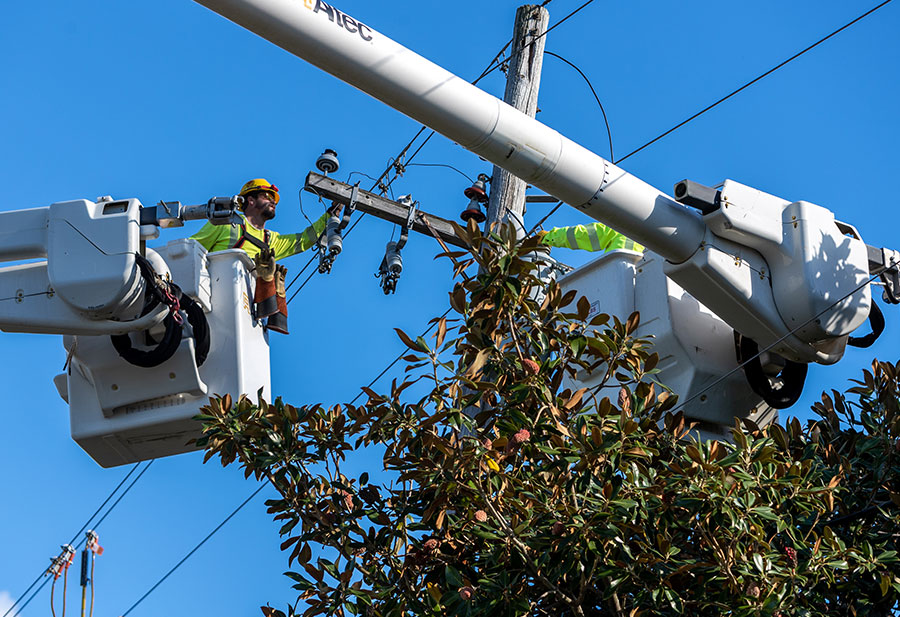 MONCKS CORNER, S.C. – Santee Cooper restored 70,000 customers within 54 hours after Hurricane Ian directly hit its service territory, making landfall at Winyah Bay in Georgetown County Friday. All customers who lost power because of Hurricane Ian were restored by 8:02 p.m. Sunday.
Crews worked around the clock to restore all residential and commercial customers, with the help of 34 contract line crews and 12 tree crews from across the southeast. Amongst the restoration, these crews replaced 20 power poles and 32 transformers.
Hurricane Ian also knocked 12 transmission lines out of service, affecting power delivery to six electric cooperatives and other Santee Cooper retail customers. The cooperatives impacted were Berkeley Electric Cooperative, Santee Electric Cooperative, Marlboro Electric Cooperative, and Lynches River Electric Cooperative, Horry Electric Cooperative and Mid-Carolina Electric Cooperative. Santee Cooper had 10 external transmission line and tree crews, plus four helicopters and crews, helping its internal team. All transmission delivery points were reenergized by Friday night, just hours after Ian left the Santee Cooper footprint.
"This was an immense effort for our crews and the mutual aid and contract crews that came to help," said Mike Poston, Chief Customer Officer. "We are so thankful for the patience and kind words of our customers as we worked diligently to get everyone powered up."
The Pinopolis Lock on Lake Moultrie at Santee Cooper's Jefferies Hydroelectric Station is still being inspected and is not yet open to boats. For updates on lock availability, boaters can follow Santee Cooper on Facebook and Twitter, and can call 843-899-LOCK (5625).
If you do experience an outage, you can track restoration times at stormcenter.santeecooper.com. MEL (myenergylinksc.com) customers can sign up for outage alerts through text or email. Notifications also tell you when power has been restored.