Ground Floor Management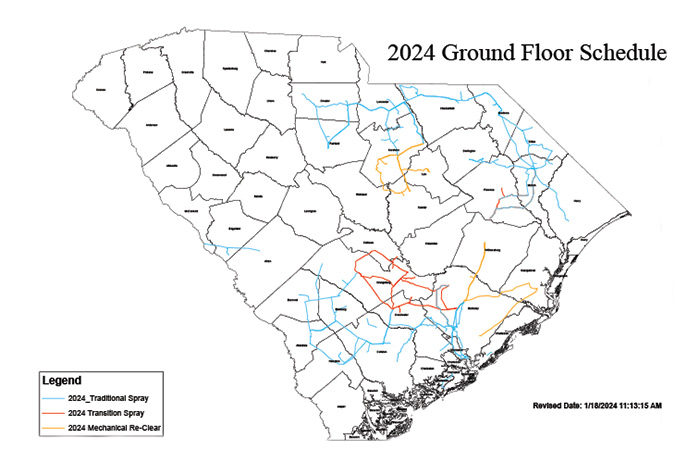 Vegetation management operations and locations are contingent upon weather and ground conditions.
For additional information, please submit any questions to vegetationmanagement@santeecooper.com.
Santee Cooper conducts its vegetation management through an approach called Integrated Vegetation Management (IVM), which is implemented on a multiyear cycle. This cycle typically consists of a 30 to 36-month rotation, which ensures Santee Cooper complies with federal reliability requirements. Vegetation control methods target undesirable vegetation that have the potential to cause power interruptions, while leaving in place compatible low growing vegetation that promotes biological diversity. Our IVM is implemented by way of two processes or a combination of both:
Mechanical re-clearing – equipment (tractors, brush mowers and saws) to clear the right of way floor.
Herbicide application – using United States EPA-registered and approved herbicides to control undesirable vegetation.
As far as residential and commercial properties, the removal of landscape vegetation near power lines is common in every community and essential for the safety and reliability of the electric system. These activities can be very dangerous. Only qualified professionals should attempt to work around trees growing too close to electric power lines. The Santee Cooper Right of Way Department and line clearance contractors have years of experience in the business of utility arboriculture.
Before performing any landscaping or planting any vegetation near or around the transmission right of way, be certain to review Permissible/Non-Permissible Guidelines to determine what vegetation is permitted within our easement.
Frequently Asked Questions
How does Santee Cooper select which Integrated Vegetation Management (IVM) practice is used for my property?
Vegetation Management practices are implemented based on many contributing factors such as public and employee safety, geographical location, site characteristics, cost effectiveness, brush density, etc.
Herbicide application methods have been proven safe and very beneficial in the utility industry. This method originally was applied to more congested regions of the state but has since expanded.
Mechanical re-clearing methods have been proven to be a cost-effective method and are primarily used in the less congested regions of the state. It is an effective method to ensure reliability and removing larger vegetation.
Why does Santee Cooper apply EPA-approved herbicides on my property?
As a form of right of way maintenance, we have diverse methods of managing or keeping our rights of way clear. Santee Cooper uses a herbicide mixture (all EPA approved) to target only undesirable vegetation in an effort to leave grasses/native plants within its habitat. This is primarily done by men toting backpack sprayers applying a low volume backpack mixture, by mechanical methods, or a combination of both. All applications are designed to control woody stemmed species while promoting biological diversity. Our herbicide application program is on a three-year rotation throughout various areas around the state.