Vegetation Management in Your Neighborhood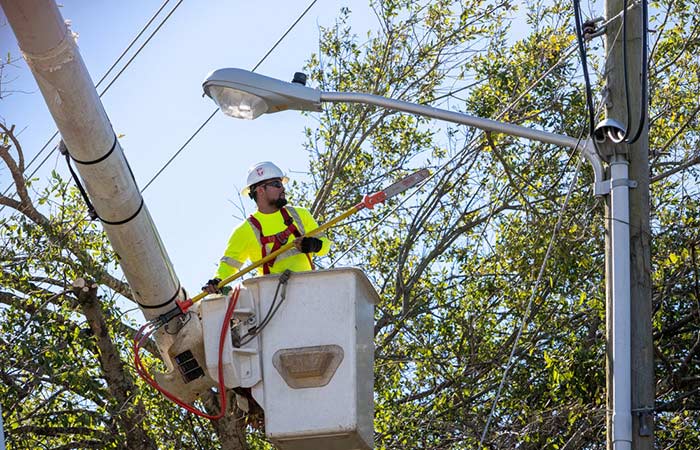 Santee Cooper is committed to providing safe and reliable power to our customers, and part of that commitment includes a robust vegetation management program. Trees are a major cause of power outages, and they also can create dangerous hazards, such as electrical shocks and fires. That's why we actively monitor and trim trees that grow too close to power lines, which helps keep our community and our line crews safe and lowers the number of outages caused by trees.
What is Vegetation Management?
Vegetation management helps Santee Cooper provide safe and reliable power by identifying and trimming trees and other vegetation that might pose a risk to our power lines. This includes both transmission – the high-voltage lines that bring the power from power plants to the substation, and distribution – the lower-voltage lines that bring power from substations to your home or business. We partner with a vegetation management provider to strategically remove tree limbs and other vegetation growing close to power lines. This might include trimming or pruning of the tree or total removal of the vegetation.
How Do We Trim Trees?
Santee Cooper hires trained, professional tree workers* who are qualified to work safely near live power lines. They know when a tree needs to be trimmed, and how to properly and safely prune the branches that need to be pruned.
The workers use a technique called "directional pruning" that is recommended by the International Society of Arboriculture. With this technique, the workers only remove certain branches that are growing (or will grow) toward the line and into the space surrounding the wires. The objective is always to prune only what is necessary to achieve the desired results.
The amount of trimming depends on many things, including how fast the tree grows and where the tree is located.
Where Do We Trim Trees?
We trim or remove trees and vegetation that grow into or too close to primary power lines. These lines usually run between two power poles. We typically do not clear vegetation around secondary service lines that generally run from a power pole to a home, business, or streetlight unless the situation is severe.
Never try to trim around a power line yourself even if it is on your property. Instead contact a professional. You also may need to contact Santee Cooper if you need your power temporarily disconnected to ensure safety while work is being done.
If a tree or plant is growing close to a power line that runs from a power pole to your home or a structure on your property and you would like it trimmed:
Call us at 800-804-7424 at least a day in advance of when the trimming is scheduled. We'll set a time to temporarily disconnect your service.
Be ready to provide a daytime phone number where we can easily reach you.
Arrange to be home when we disconnect service.
Once your tree is trimmed, call us back at 800-804-7424 to have your power reconnected. Our crews will not wait on-site while a tree is trimmed.
Keep in mind, tree trimming-related disconnections may need to be rescheduled if an emergency arises or if other, previously scheduled service orders need to be completed first. No fees are collected for this service and it is available Monday-Friday from 8 a.m. to 5 p.m., excluding holidays.
If you feel there is a situation with vegetation growing into power lines - regardless of where they are - that is severe enough to cause damage to the electrical system or a safety hazard, please report it to us. We will inspect the situation and determine if we need to intervene.