How to Camp Safely During Hurricane Season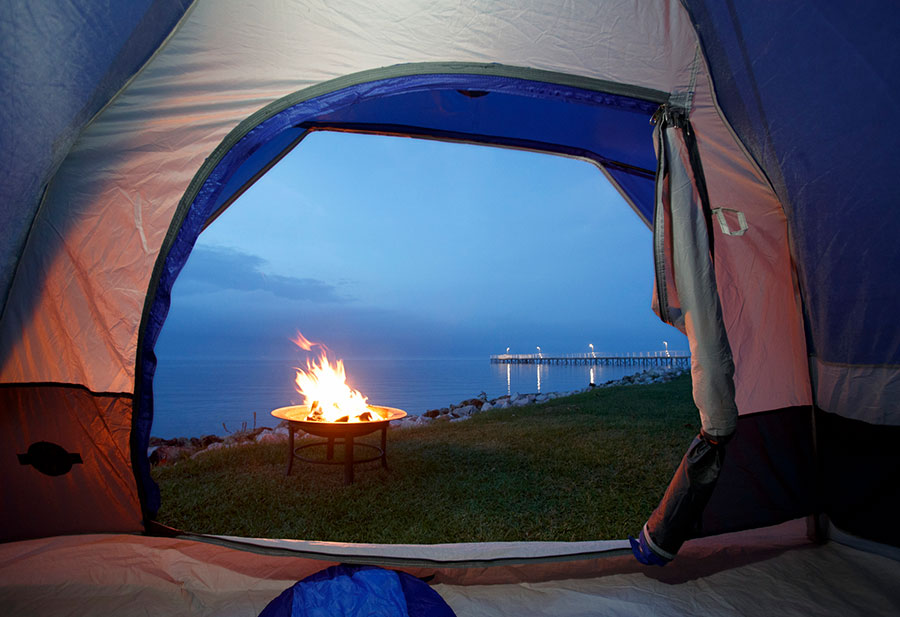 Camping any time of year is an exciting escape. Summer is especially fun as warm weather allows for lots of outdoor activities. But things can get tricky if you're camping on the coast, during hurricane season.
Areas far inland can feel the wrath of a tropical storm. Hurricane Hugo was a Category 1 storm when he reached Charlotte, N.C., in 1988. That's about 200 miles from where it made landfall.
The following tips aim to help you with emergency supplies and other preparations best for possible summer storms.
Know About Hurricane Preparedness
The risks in a hurricane-prone region become more pronounced when you're in a camper or tent. Follow these basic guidelines for storm prep if your trip coincides with a pending storm.
Decide early: If you choose to evacuate, err on the side of caution, and move out as soon as possible to avoid inevitable traffic.
Plan a route: Do this even before you pitch the tent, and you'll save valuable time.
Follow directions: Heed evacuation orders so emergency personnel don't have to rescue you.
Check out our recent blog for more information about hurricane preparedness.
Understand Storm Surge
Much damage and danger from natural disasters is a result of storm surge, an abnormal rise in seawater. The storm's winds push water ashore, bringing ocean water far inland during the worst of it.
Be flexible: If tropical storms are a threat, be ready to change plans on a dime if need be.
Find the high ground: Park RVs at the highest elevation possible to avoid storm surge.
Tap for weather safety: Install a weather app on your phone to receive alerts of watches and warnings.
Stock Emergency Supplies
Power and transportation can be the first things compromised in a storm. Hurricane preparedness supplies should sustain you where you are for an extended period. A first-aid kit, non-perishable foods, and a gallon of water per person per day are essential. Beyond that, bring:
Books: A good read for adults and some with crayons for young kids.
Flashlight: Don't forget the batteries.
Medications: Carry an extended supply of regular meds.
Pocket knife: The more tools it has, the better.
Whistle: Any will do – shrill whistles work best to help rescuers find you.
Rely on Camping Skills and Gear
Things you know and things you bring for camping can help you during hurricane season. If you're safe but stranded in your plot, remember these lessons.
Cook what you can: Camp stoves can take almost as much skill as cooking on an open fire, but it's good to learn.
Protect documents: Bring dry bags to store your wallet and any other documents you don't want wet.
Observe "hiker midnight": Rise with the dawn, rest at dusk, until you can be safe to leave the site.
Protect Your RV and Your Family
Regulars to the RV life know storms can hit any time of year without warning. And waiting out natural disasters in a camper isn't ideal, so remember these tips.
Park it: Find a secure facility if there's no way to get out before the storm hits.
Prep it: Close windows and vents, empty tanks, secure all you can inside the RV.
Book it: Get to a hotel if possible, but a community evacuation center may also be an option.
What it all Means
Camping and hurricane season aren't a great mix. It's best to avoid hurricane-prone areas when choosing your destination. However, many people don't want minimal threats to hamper their summer. If you play it right, you can set off on all the adventures you want without putting yourself at risk. For more everyday camping safety tips, click here.