Grand Strand Solar Station Celebrates 10 Years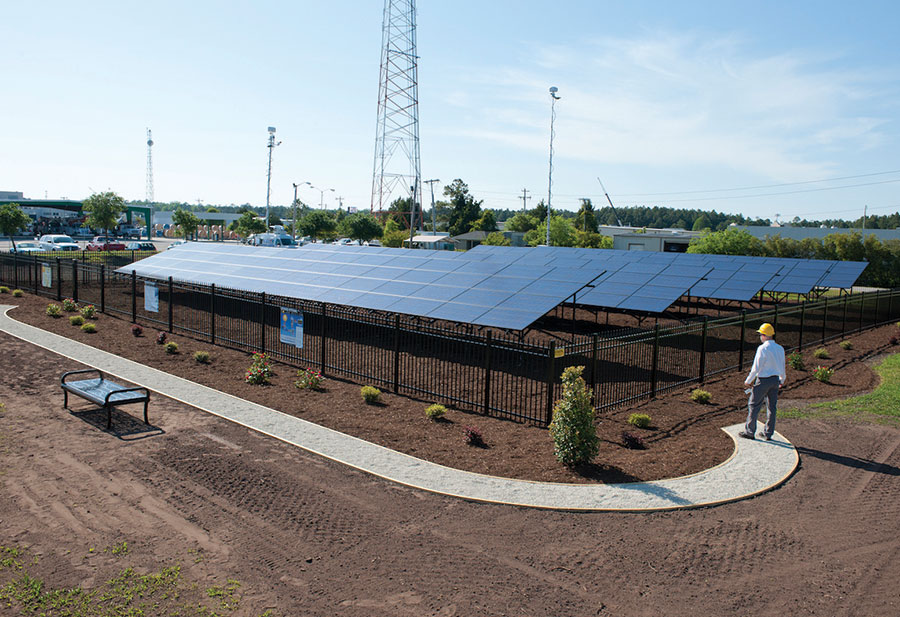 MYRTLE BEACH, S.C. – When Santee Cooper's Grand Strand Solar Station came online a decade ago, it was the largest solar power installation in South Carolina at 311 kilowatts and represented a 35% increase in total solar capacity for the state. It also was a significant increase for Santee Cooper's solar generation.
Since that time, it has generated 3,601 megawatt hours (MWh) from its home on Mr. Joe White Avenue in Myrtle Beach.
The Grand Strand Solar Station contains 1,325 solar panels mounted on rooftops and in a field adjacent to Mr. Joe White Avenue. It was paid for in part by a grant administered from the S.C. Energy Office and funds from Santee Cooper Green Power sales. The panels are designed to withstand winds of 130 mph and 1-inch hail at 52 mph. Because it was a first of its kind for South Carolina, the solar station was also designed to help educate the public about solar power. There is a pull-off area and signage to accommodate visitors who want to learn more.
While Santee Cooper's commitment to solar started early, the utility has come a long way since then, with a total of 712 MW solar power online or under contract today to serve the combined system. Most of that comes from a joint process Santee Cooper is conducting with its largest customer, Central Electric Power Cooperative, with each entity contracting for its share of 425 MW of solar output that will be online by 2023. Santee Cooper and Central continue to pursue opportunities to increase that near-term solar total to 500 MW, to be dispatched for the benefit of our combined system.
These fixed-price solar contracts mean Santee Cooper pays only for energy received, result in no additional debt, protect customers from fuel-price volatility, lower the carbon footprint and provide a hedge against potential future carbon legislation.
"Santee Cooper has made a commitment to bring more solar online and become a leaner, greener power supplier for the benefit of our customers," said Santee Cooper President and CEO Mark Bonsall. "Since this initial Grand Strand solar installation in 2011, solar has become more accessible and less expensive, and it makes sense for our customers and the environment that we take advantage of this renewable resource."
Looking out to the next decade, Santee Cooper's sustainability goals include another 1,000 MW of solar and 200 MW of battery storage for the combined system by the early 2030s. Fueled by this additional solar and the closure of coal units, Santee Cooper's 2020 Resource Plan projects a 55% average reduction in carbon emissions in the 2030s over 2005 levels.