Billing Programs for the "On the Go" and "Want to Know" Customers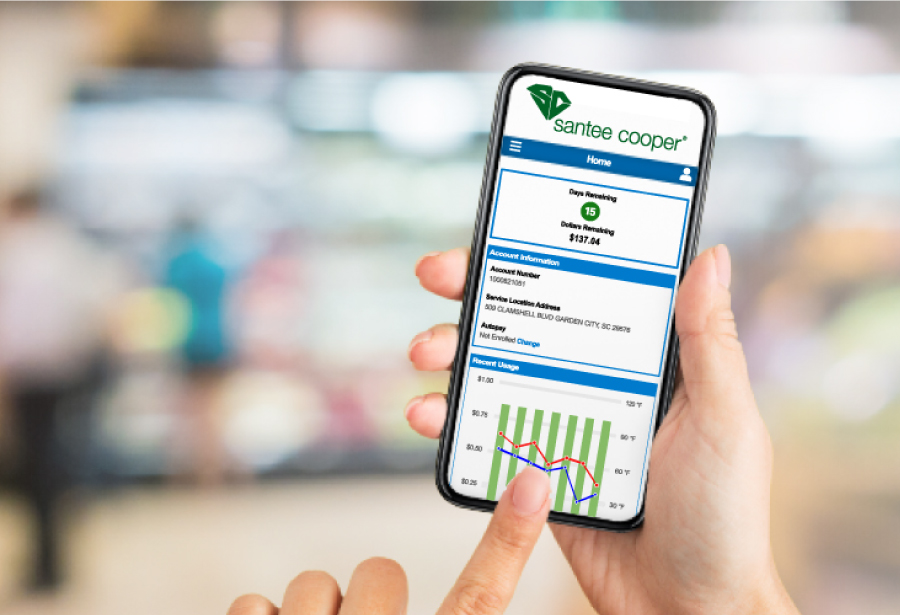 Whether enjoying dinner out on the town, picking out a new outfit, shopping for a new phone, or simply restocking your basic household items, it's no secret that customers enjoy having options. When given options, the consumer has the ability to make a choice based on cost, preferences and convenience, among other things.
We realize the traditional way of doing business with a utility company – receiving a paper bill and mailing or delivering a monthly payment – is no longer the preferred payment option for every customer. Energy provider Santee Cooper values a positive customer experience and strives to offer a variety of customer billing and payment programs to meet the different needs and preferences of each customer.
My Energy Link and Pay As You Go Electric are the two paperless billing programs Santee Cooper offers to customers who want a little more than the traditional experience. If you are "on the go" or just want to be "in the know," one of these programs may be the perfect fit for you. Let's take a look at each one.
My Energy Link (MEL): MEL is our customer self-service online portal and app designed as the one-stop spot to do business with Santee Cooper. Nearly 45% of our customers are active MEL users. With MEL, you can:
View your bill, current balance, and two years of bill and utility payment history.
Pay your bill on your computer, smart phone or mobile device.
Set up and manage autodraft payments OR store saved payment methods for quick and easy payment processing each month.
Pay fee-FREE with your checking account and routing number.
Compare your electricity usage over the past 12 months.
Sign up for text, email and push notifications.
Download the MEL mobile app for "on the go" access anywhere!
For more information on MEL, click here.
Pay As You Go Electric (PAYGE): PAYGE is a great paperless billing option for customers who want to be more aware of their energy consumption, or just want a little more flexibility with payments. Electricity is paid for in advance, before it is even used, so the customer is in control of payment amounts and monitoring their daily usage. Our PAYGE customers typically use 5.1% less energy than customers on traditional postpaid service. Some of the additional features of PAYGE include:
No due dates: Pay what you want, when you want.
Daily usage awareness (in kilowatt hours and dollars).
Personalized email and text notifications.
No deposits, late fees or reconnect fees.
No monthly bill or bill surprises.
Ability to set up autopayments to increase account balance when needed.
PAYGE Self-Service Portal – Manage your account balance on your computer or mobile device.
For more information on PAYGE, click here.
Our goal is to always keep our customers informed about the programs and services that are available from Santee Cooper. We hope to offer services that fit your needs and make doing business with us quick, easy and efficient.
To view a list of all Customer Programs and Services, you can visit our website. We look forward to serving you!