Enjoy solar power without buying solar panels.
With our community solar program, Solar Share, you can enjoy the benefits of solar power without the hassles or costs of installing and maintaining your own equipment. Starting at just $6 per month, Solar Share customers purchase shares of the solar generation capacity at Colleton Solar Farm.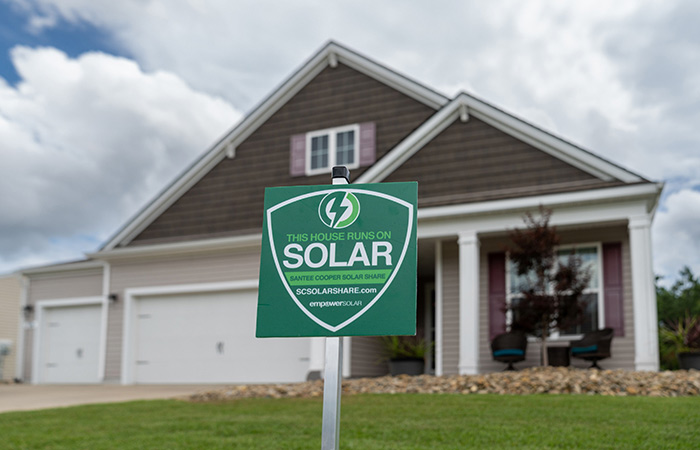 Solar Share Pays You Back
A Solar Share subscription lasts through 2033 — if you sign up now, you'll enjoy the benefits of community-generated solar power for the next 10 years. And Santee Cooper offers Solar Share rebates. Solar Share subscriptions generally pay for themselves with solar credits on your Santee Cooper energy bill in 4-to-6 years.
How Solar Share Works
Participants
Pay for a share(s) of the solar farm
Schedule Your Installation
Solar power is distributed to the grid that powers your home/business
Santee Cooper
Santee Cooper credits participants for their share of generated electricity
Get Started!
Research

Doing your research is always a good move. Check out our Solar Share FAQs below and review the Solar Share Home application or Solar Share Business application. For real-time data on the Colleton Solar Farm, click here.

You also can contact us at solar@santeecooper.com or 843-946-5951 if you have questions.

Santee Cooper solar customers are subject to the Distributed Generation Rider, which includes a standby fee for residential customers of $4.40 per kW per month and $4.70 per kW per month for business customers. That standby fee is necessary to recover fixed costs, such as maintenance of generation, transmission and distribution systems, that wouldn't otherwise be collected from solar customers. The DG Rider ensures those fixed costs are not shifted to non-solar customers.

Customers can either pay the discounted subscription fee in full at the time of subscription or apply to enroll in a monthly payment plan. Monthly payment plan terms are based on Santee Cooper's Energy Loan Program's current interest rate.

Review Purchase Options

As a Solar Share customer, you still receive the same reliable, on-grid Santee Cooper service. Through Solar Share, however, you can choose how much solar you'd like to purchase to offset your energy usage.

Calculate ROI

To help decide how many blocks of Solar Share to purchase and what your best return on investment (ROI) will be, calculate your average monthly energy usage, measured in kilowatt hours (kWh), for the past year. You can do this by reviewing your bills for the past 12 months, adding up your energy use for those 12 months, and then dividing by 12.

Apply

Review and complete the Solar Share application and select your payment option on the application.

Solar Share Home ApplicationSolar Share Business Application

Get Your Share of the Sun

Your bill will show a solar energy credit that's equal to the energy produced by your share of the solar farm. If you have excess solar generation, which means your Solar Share generation was greater than your energy consumption, you will receive a credit, called the DG Credit, on your monthly bill.
Frequently Asked Questions