National Drive Electric Week in South Carolina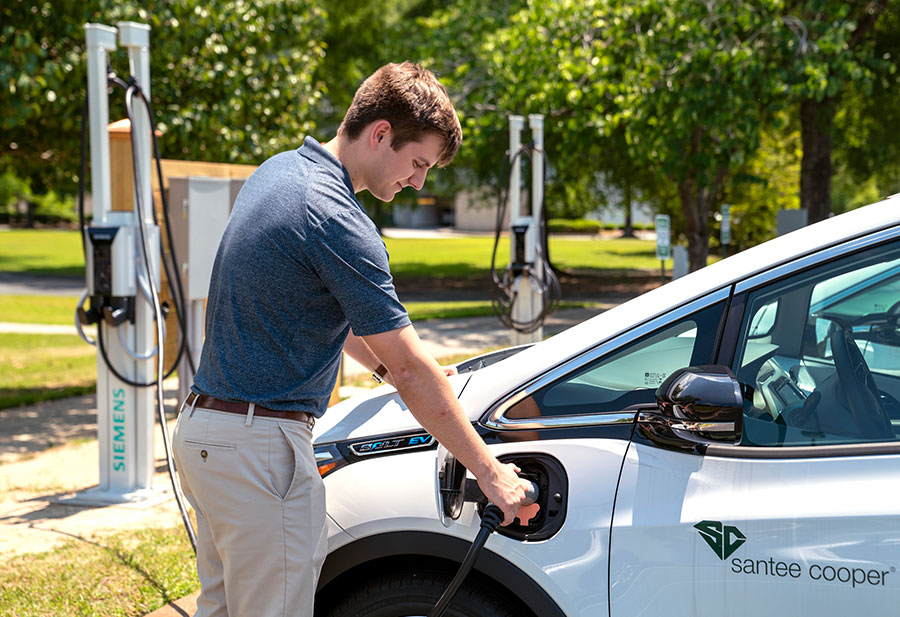 Five years ago, I remember waking up early on a Saturday morning in September and making an hour and a half trip to Columbia for an electric vehicle car show that was being held in a Whole Foods parking lot. I was fairly new to the electric vehicle field at the time, and while I was interested in electric vehicles, I wouldn't say that I was necessarily "excited" to wake up early on the weekend to make the trip. I had just been introduced to National Drive Electric Week and didn't know what to expect. Fortunately, I was able to convince my wife and one of our friends to join me for the event so I wouldn't have to go alone.
We woke up and headed up to the show, and when we arrived there were about six or seven electric vehicles as well as a few tables with info about EVs, a science experiment, and some information about some nonprofits in the area. It was a well-organized event, but not a large one. We probably saw about 30-40 people come in and out of the show during our hour there.
While looking around at the show, we were offered a ride in a Tesla. At the time I had never ridden in an electric vehicle, so I happily accepted the offer. To say I was amazed by the ride would be an understatement. This car seemed to have features for everyone. It was quiet and smooth for people who like a relaxed ride, the acceleration was incredible for the folks who like performance, and the technology in the vehicle seemed like something out of the future. At that point, I went from interested in EVs to excited about EVs, and I have been hooked ever since.
Fast forward to 2019, I excitedly made the trip back up to the state's capital for the National Drive Electric Week event. The event had been upgraded from the Whole Foods parking lot to Columbia's Soda City Market on Main Street. The new venue gave more room to bring in vehicles and also a captive audience from all the folks shopping at the market. I made my way through the farmers market (which I would highly recommend if you are ever in Columbia during the summer!) and toward the car show.
While taking in the scents of fresh baked pastries at the market, I saw a sea of people in front of me, and I thought to myself, "There is no way this is for the car show, something else must be going on." Fortunately, I was wrong! There were hundreds of people checking out the vehicles that were stretched up and down Main Street and Hampton Street. There were about 30 vehicles and many more vendors giving out info about EVs. There were owners of vehicles offering rides, letting folks sit inside, and answering all the different questions thrown their way. My only hope that day was that other people were as excited about the event as I was at my first one.
2020 was set to be another great year for National Drive Electric week in South Carolina, but unfortunately, COVID had other plans. Although there was no in-person event in 2020, there were some great virtual events, and it even made it easier to tune in to some events hosted by other states during National Drive Electric Week.
This year National Drive Electric Week is scheduled to be back in-person, and I look forward to making the trek up to Columbia on Oct. 2. If you are looking for something fun to do this weekend, you can head on up to Columbia. You may even bump into me there. I'm sure there will be a large array of vehicles, some great information about the benefits of EVs, and an impressive farmers market that will having something for anyone in the family. You can visit www.driveelectricweek.org for more information about the event.
For those of you who can't make it, here is a list of just some benefits of electric vehicles:
Cheaper Fuel Costs – The U.S. Department of Energy estimates that it in South Carolina it costs $1.07 for an eGallon, which the DOE defines as "the cost of fueling a vehicle with electricity compared to a similar vehicle that runs on gasoline."
Steady Fuel Prices – With Santee Cooper not raising rates until at least 2024, you can be confident that the price to charge your EV will remain constant, and you won't have to be concerned with the volatile price of gas.
No Oil Changes – EVs don't require oil changes, which helps save you time and money.
Lower Maintenance Costs – There are fewer moving parts in an EV compared to an internal combustion engine. Less moving parts means there are less things that can break, which leads to lower maintenance costs.
Zero Tailpipe Emissions – All-electric vehicles have zero-tailpipe emissions, and as Santee Cooper moves toward a leaner and greener resource plan, the emissions used to create the electricity are reducing as well.
Incentives – The federal government is still offering up to a $7,500 tax credits for qualifying EVs. Santee Cooper is also offering up to $500 to assist with the installation of a qualifying level 2 charging station for our residential customers.
For more information about how EVs work and the types of charging, visit our informational EV webpage.