National Drive Electric Week 2022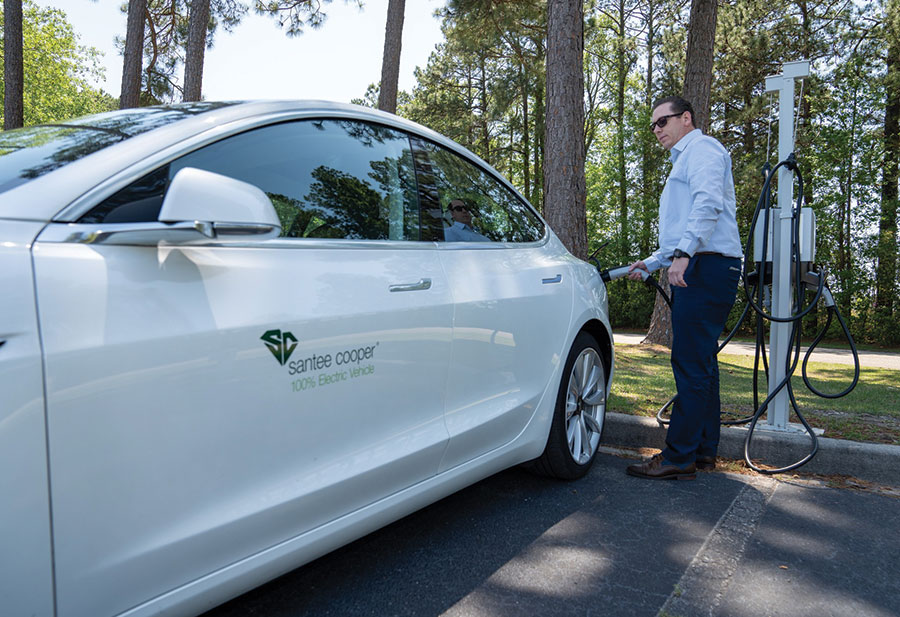 The beginning of fall signifies many things. The pumpkin spice latte is back at your local coffee shop, the weekends are filled with as much football as your heart desires, and you can enjoy the changing of the leaves on a day trip to pick apples.
Here at Santee Cooper, it also signifies National Drive Electric Week. National Drive Electric Week runs from Sept. 23 through Oct. 2. According to the official National Drive Electric Week website, the week is a nationwide celebration to raise awareness of the benefits of electric vehicles, but I think it's also a time of enjoying some of the exciting new features of EVs. With National Drive Electric Week being a combination of fun and learning, I have put together a list of some of my favorite facts and features of EVs.
Frunks! Many electric vehicles have "frunks" which is a portmanteau of "front" and "trunk." While this term isn't in the Oxford English Dictionary (at least not yet), it is well-known in the EV community. Since EVs have far fewer moving parts than traditional gas vehicles, it has created enough room that many cars can now have a trunk and a frunk for double the storage!


Acceleration. Motortrend looked through 73 years of test data to find which vehicles had the fastest 0-60 mph acceleration. Would you be surprised to hear that 3 out of the top 4 on the list were electric? The Tesla Model S plaid came in with a blistering 0-60 speed of 2.06 seconds!


Tailgating and Camping. You are ready for gameday, but you still have to pack up all your cooking utensils and find someone to help you throw the cooler in the back of the truck. Well at least that used to be the case. With the new Rivian R1T, you can have everything you need for your next tailgate or camping trip built right into the truck. The new Rivian truck has a cavity in the middle which you can add on a camp kitchen that pulls out and has a two-burner induction stove, a collapsible sink, a dish rack, and drawers for utensils. Also, don't worry about packing up the cooler, the R1T has a storage unit under the truck bed that has a drain hole so drivers can use it as a cooler.


Crabwalk. GMC released the new EV Hummer which includes a new feature that will let you take the large vehicle into some tighter spaces than its older models. With the new crabwalk feature, drivers can turn all 4 wheels forty-five degrees and drive the car diagonally to fit into tight spaces. When you see it in action, you can see where it got its name.


Home Generator. Ford's new F-150 lightning has a unique intelligent backup power feature that allows drivers to use the vehicle's battery as backup power for their home. Ford claims that the battery can power your home for 3 days or even up to 10 if usage is properly rationed.
Even if you don't have the Rivian R1T, you may still be planning to tailgate for the South Carolina and South Carolina State game at Williams-Brice on Oct. 1. If so, be sure to add in some extra time that morning to visit the National Drive Electric Week event at the Soda City market in Columbia. This event is the only one in South Carolina in 2022, but National Drive Electric Week also offers a few online events as well for those who can't make the drive to Columbia. Click here for full details about those events and other information about National Drive Electric Week.
Also, don't forget that Santee Cooper offers EV programs and resources to help with your EV journey.