The 2023 EVolve Grant application cycle is now closed. Please check back in early 2024 for our next EVolve Grant application cycle. In the meantime, feel free to review the 2023 EVolve Grant process below to help you prepare for your 2024 application.
Santee Cooper's EVolve Grant Program is here to help you take charge of your electric vehicle project. The EVolve Grant Program allows eligible commercial customers to apply for up to $25,000 in grant funding to help you get started on your EV journey. A competitive scoring process will help Santee Cooper choose the top projects to receive funding.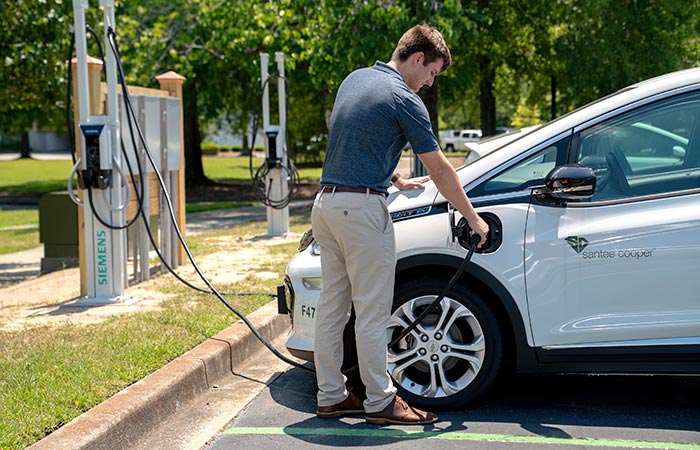 Project Categories
Customers are encouraged to apply for EV projects in one of four project categories:
Make-Ready Research
Education and Outreach
Electric Vehicle Charging Infrastructure
Electric Fleet Conversion
For more information on these categories, see the program application in step one below.
Get Started!
Review Application and Preliminary Financial Summary

Read our application and supplementary documents before starting the application process to ensure that you qualify. You can find examples of completed applications in our FAQs.

The application and financial summary are required documents. Submissions received without a completed application and financial summary will be marked as incomplete and not be considered for funding.

Note: We are aware that there are currently supply chain delays and long wait times for EVSE equipment and EV orders. We encourage you to apply despite supply chain delays and request that you acknowledge the potential delays in your application (under the Project Timeline question on page 9 of the EVolve application). While our grant requests that you complete your project within one year, extensions will be given to approved projects that have reasonable delays due to supply chain issues.

Grant ApplicationFinancial Summary FormLandlord Consent Form

Complete Application

Once you have read the program requirements, please fill out all applicable documentation for your project.
All documentation and questions about the program should be submitted to e-mobility@santeecooper.com
All documentation must be submitted by September 8, 2023. Any applications not fully completed by September 8, 2023 will not be accepted.

Wait for Scoring

Santee Cooper uses an independent, third-party grant manager to review and score projects.
Once scoring is complete and projects are approved, Santee Cooper will reach out to let you know if your project has been approved for funding.
Project approvals and denials will be sent out by the end of December 2023.
Frequently Asked Questions