ChargeSmart Electric Vehicle Rate Plans
If you own a battery or plug-in hybrid electric vehicle, you can lower your energy costs by enrolling in one of our ChargeSmart EV rate plans. Santee Cooper offers two EV rates with different benefits. We can help you choose the best one for you.
Both ChargeSmart EV Rate Plans are time-of-use plans. This means there are different prices for electricity depending on the time of day you use that electricity. The time periods and rates are detailed below.
Electric vehicles cost less to fuel – and much less if you charge smartly. In fact, you can save up to 70%, when compared to the standard residential RG rate, by charging your vehicle smartly during Super Off-Peak Hours (basically, overnight).

- EV estimate based on 12,000 miles driven per year, charging 5,300 kWh per year, all at Super Off-Peak prices, with 2023 Frozen Fuel, Demand Sales, and Economic Development Sales Adjustments.
- Gasoline estimate based on 12,000 miles driven per year, 25.4 MPG, and a cost of $3.00 per gallon.
Residential Electric Vehicle Power (REV)
REV is a whole-house rate: You will pay more than the non-EV residential customer for power consumed during On-Peak Hours but less than the non-EV customer for power consumed during the Off-Peak and Super Off-Peak Hours.
REV provides the most benefits to customers who can shift as much power consumption as possible to the Super Off-Peak Hours (EV charging, washing/drying clothes, running the dishwasher, etc.) and avoid using electricity as much as possible during On-Peak Hours.
The typical Santee Cooper residential customer will have similar home and appliance charges under the REV rate compared to the existing RG rate before any change in behavior, but it is important to understand your home energy consumption before deciding if this rate is best for you.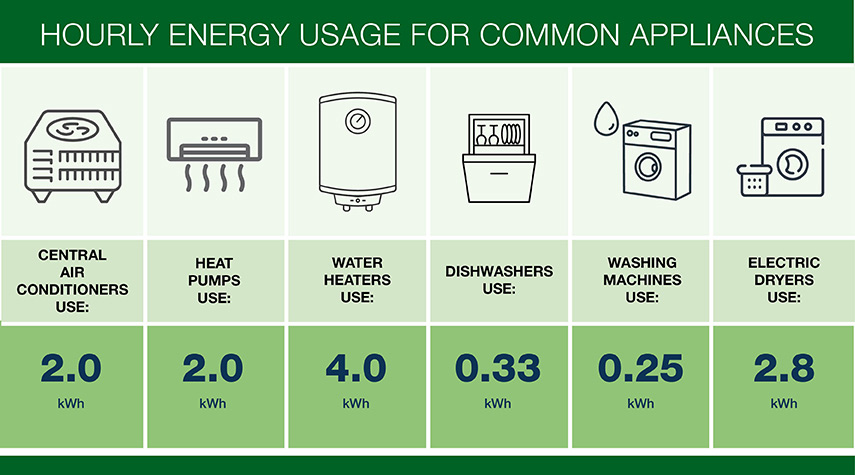 As the example below demonstrates for an electric dryer, a customer could save $6.73 per month by shifting usage from On-Peak to Off-Peak. The more usage you can shift into the Off-Peak or Super Off-Peak time periods, the more you will save.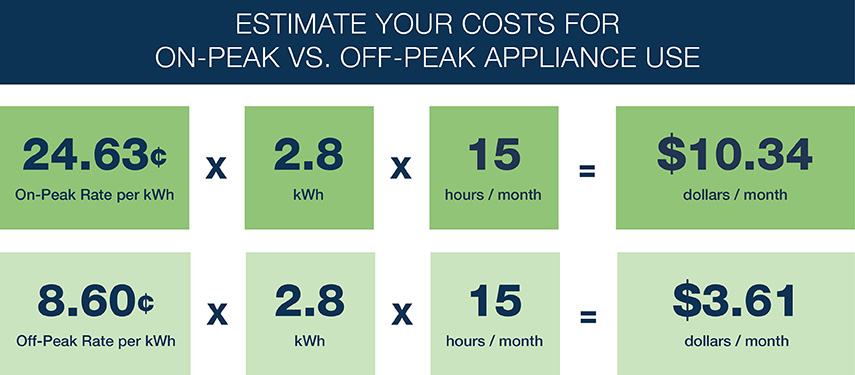 You can view time periods and energy charges for the REV rate below. On-Peak Hours do not apply to weekends and select holidays*. The monthly customer charge is $19.50, which is the same as the RG rate.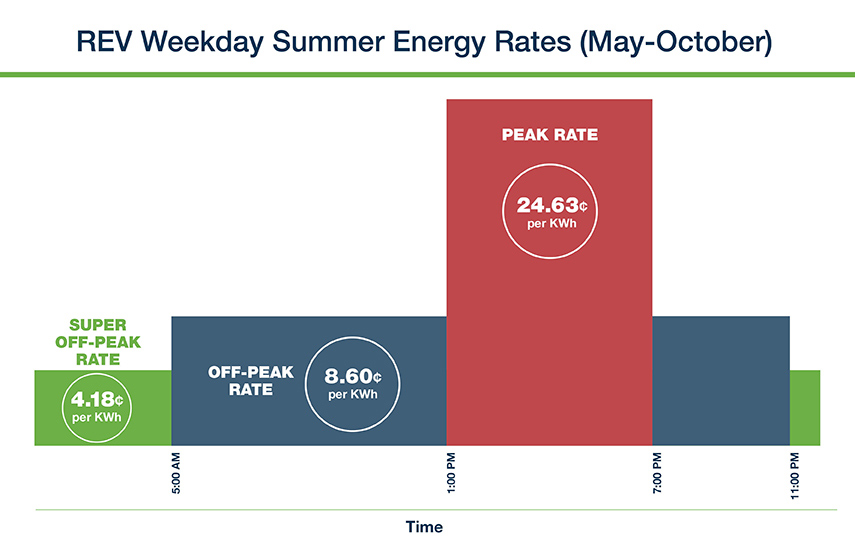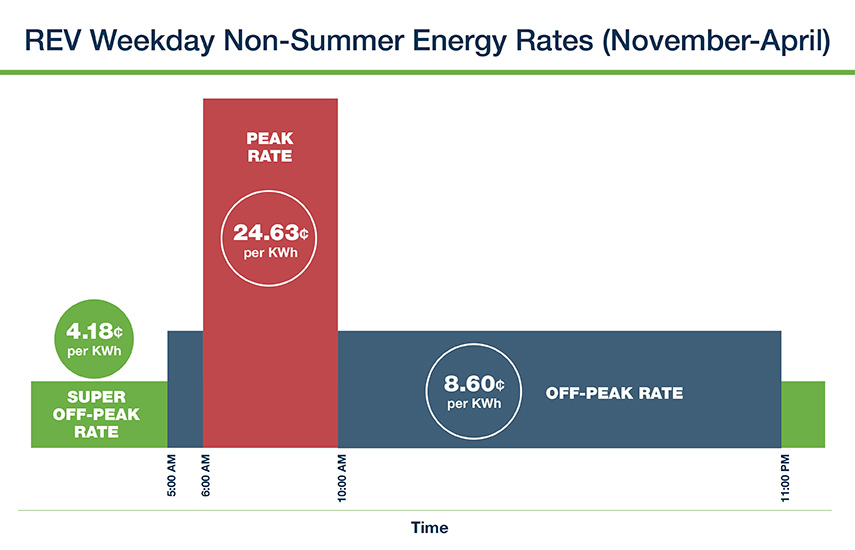 Residential Electric Vehicle Power Only (EVO)
The EVO rider is available to current Santee Cooper residential customers and requires that your EV charger be connected to a separate meter, installed at the customer's expense, and applies only to that meter. You can have a dedicated meter in one of two ways:
Install a dedicated meter at the same time you install your EV charger. The EVO rider provides the most benefit to customers who add a dedicated meter when they install an EV charger.


Rewire an existing installed EV charger to a second meter at an additional cost.
Either way, the EVO rider will require the installation of a second meter.
You can see time periods and energy charges for the EVO rider below. On-Peak Hours do not apply to weekends and select holidays*. The monthly Customer Charge is $5.00; this is in addition to your existing customer charge. Electric usage for the remainder of the home will continue to be billed under the RG or RT rate. Charges may apply if a customer terminates service under this rider after less than two years.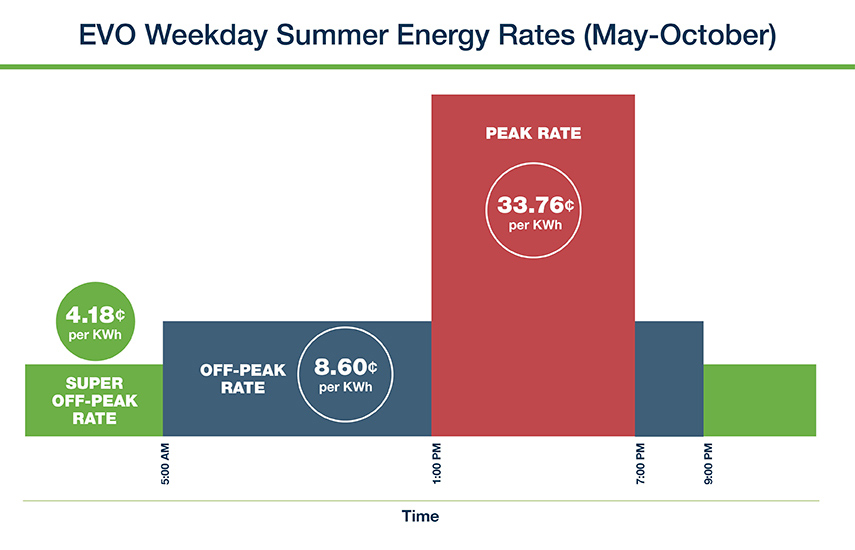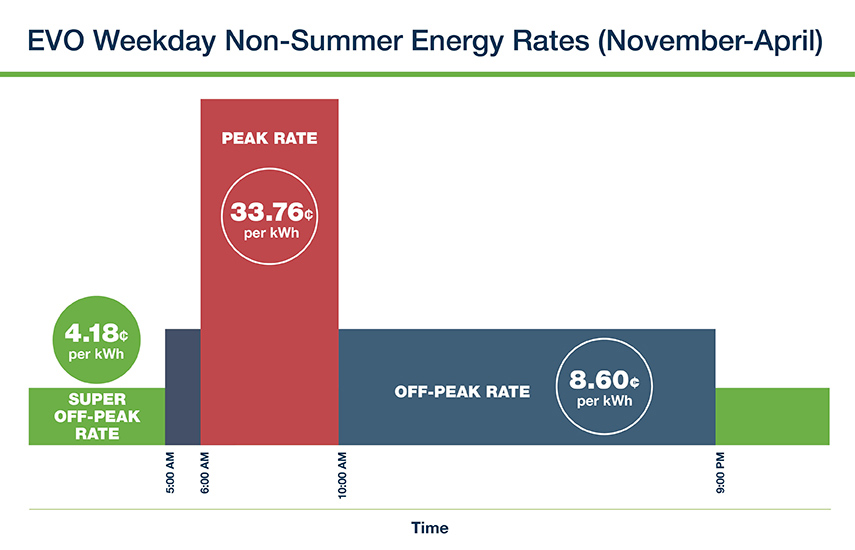 *Weekends are Saturdays and Sundays. Holidays include New Year's Day, Memorial Day, Independence Day, Labor Day, Thanksgiving Day and Christmas Day.
To learn more about meter installation and see what rate plan is right for you, contact a Santee Cooper Residential Energy Advisor at residential.energy@santeecooper.com or 800-804-7424 ext. 3910.