EV Initiatives
Santee Cooper is committed to learning more about how EVs can benefit our team and our customers. We are investing in programs, research and technology to help our employees and our customers make the transition to EVs.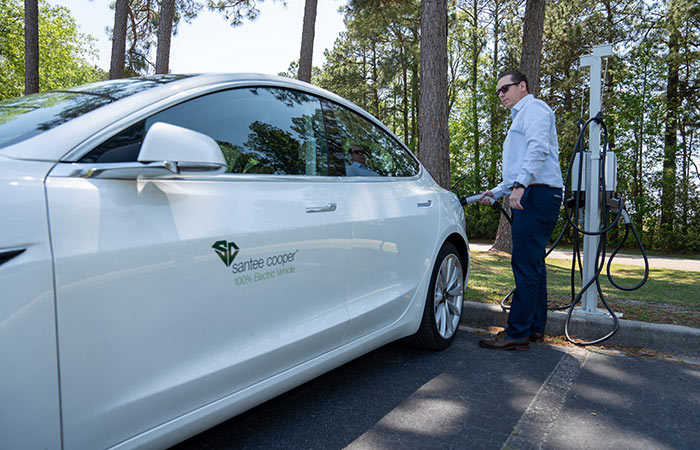 Electrifying our Fleet
Just like many of our customers, Santee Cooper is still learning about electric vehicles. To help us learn, we are adding electric vehicles to our fleet and analyzing their usage. Santee Cooper currently has four all-electric vehicles and one plug-in hybrid electric vehicle in our fleet. We are excited for the new models of EVs coming to the market and will continue to purchase EVs that meet our needs over the next decade.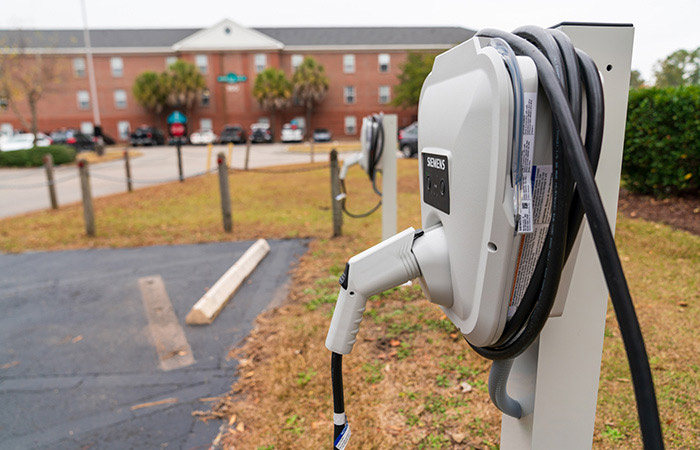 Workplace Charging
Santee Cooper not only encourages the adoption of EVs by our customers but also our employees. Santee Cooper has installed charging stations at four locations for employees to use when they come to work. We have seen the number of employees with EVs increase over the past few years and hope to continue that trend into the future. Many of our EV drivers are big proponents of the technology and offer up real-life advice when Santee Cooper is working on its EV strategy.
Electric Vehicle Task Force
Santee Cooper's EV Task Force brings together team members from various departments to develop an EV strategy. This team works to ensure we are continuing to meet the ever-changing needs and wants of our customers as they purchase electric vehicles.
The team works on:
Forecasting adoption of EVs
Developing customer resources
Planning EV programs
Understanding the impact of EVs on the power grid
Determining how Santee Cooper can best be prepared for an EV future
We know that many of our customers are looking at EVs for their next vehicles, and we want to ensure that as more customers purchase EVs, that all customers are continuing to receive the reliable, low-cost, environmentally responsible power.